Supercars launches PI tyre investigation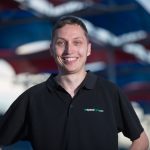 Supercars has launched an investigation into a series of Dunlop tyre failures as the category looks to address the issue ahead of Sunday's second 250km heat of the WD-40 Phillip Island 500.
A special meeting of the Supercars Commission was held at the circuit this evening to analyse the situation after more than 15 right sided tyre failures occurred during the 250km race.
All the teams barring Triple Eight, Tekno Autosports and Lucas Dumbrell Motorsport suffered failures, with the reason for the situation yet to be determined.
This weekend saw the debut of a newly constructed soft compound tyre at the punishing Phillip Island circuit, which had not been tested at the venue prior to the meeting.
Dunlop is working with Supercars on the matter. The firm confirmed on Friday that tyres will undergo a shearography test overseas following the round after three tyre failures during practice.
"Supercars and Dunlop will conduct a full investigation into the tyre issues from today's race," read statement from Supercars Sporting and Technical Director David Stuart.
The Supercars Commission will reconvene on Sunday morning where a decision to put any measures in place will be made.
The category already has a set psi rating but a limit on camber could be introduced.
A similar situation with Dunlop tyres occurred in the British Touring Car Championship at Thruxton last year with organisers electing to shorten the races.
Prodrive boss Tim Edwards, who is a member of the Supercars Commission, felt the situation was dangerous enough for the race to be red flagged.
"It was dangerous," said Edwards.
"As a category, we were lucky today. When you have 20-plus tyres fail – and it will be more than that, because some went unrecognised because cars were coming in anyway.
"It was that common. We had 20 or 30 tyre failures, so you've got to think of safety first.
"We were lucky, and a couple of Safety Cars came at opportune times that allowed us to have a bit of a reset. But it was a very dangerous situation out there today.
"At the moment (Sporting and Technical Director) Dave Stuart's job is to get all the facts and figures together.
"We can't make any decisions until we've got that. If teams are having failures running three psi less and one degree of camber more than teams that weren't having issues, then clearly that's down to the teams.
"We certainly took a very conservative approach, but how conservative do you have to go? That's the question that nobody really knows."
However, Triple Eight boss Roland Dane felt the tyres were not an issue if teams ran conservative settings.
"There's nothing wrong with the tyres," Dane told Speedcafe.com.
"Nobody tried to do a race run on Friday, even a reasonable run, apart from us and DJR Team Penske. So it's complete nonsense."
Dunlop was set to test the newly constructed tyre at the track last year with Mark Winterbottom but the test was rained out.
Edwards admits in hindsight it would have been smart to reschedule the test.
"It's easy in hindsight to make that statement, of course it would have been good to run the tyres here," he added.
"But we went to Eastern Creek and that's a high-load circuit as well, and we had 26 cars running and we didn't see a problem. Clearly we've tipped it over the edge here."