Lowndes set for return after lengthy rebuild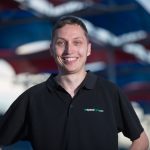 Craig Lowndes is set to return to the track today following a lengthy rebuild of the #888 Commodore that saw the entire Triple Eight crew work until midnight.
Lowndes emerged unscathed from a high speed shunt during Friday's opening practice at Phillip Island, which was caused by a right front tyre failure on the run to Lukey Heights.
The #888 Commodore suffered significant damage to the front and rear of the car which forced him to miss the second 40 minute session.
Triple Eight has spent more than 13 hours on the rebuild to ensure the car is in the best condition possible for today's 20 minute qualifying session and 250km race.
Team manager Mark Dutton confirmed the car avoided any damage to the chassis.
"It has been a big job because there has been front and rear damage," team manager Mark Dutton told Speedcafe.com.
"To put it in perspective it probably took longer than we spent on Craig's car following his accident in New Zealand (last year) because that took 12 hours.
"We have seen 10 hours yesterday and another two or three this morning on this rebuild.
"That was to make sure every little detail was right.
"It was bolt on bits that were damaged so we didn't have to pull the welder out to fix anything.
"It was a true testament to the quality of the cars. The way the car lifted up in the air was dissipating energy from the impact instead of bending things.
"Although it looked spectacular it was the better option than a sudden stop.
"The rear sub frame wasn't bent and the sacrificial parts did their job.
"It is a lot of work and because the boys knew they were not going to make Practice 2 they worked until midnight with work to be completed today to make sure the car was back in A1 condition.
"Sometimes you do have to compromise rebuild. You never compromise safety but sometimes performance with repairs to get a car back on track.
"The good thing is the whole team including the Red Bull guys went and helped out to make sure it was a no compromise repair."
Qualifying is set to begin at 1245 AEST.