Lacroix focussed on DJRTP development push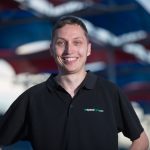 Emerging Supercars force DJR Team Penske is only at the beginning of its development curve, according to the squad's new technical guru Ludo Lacroix.
The Queensland operation has enjoyed a stark upturn in performance this season which has seen the squad become genuine title contenders after strong displays in the opening two rounds of the season.
Its form has continued at this weekend's WD-40 Phillip Island 500 with both Scott McLaughlin and Fabian Coulthard inside the top 10 after Friday's two practice sessions.
However, sustaining a championship bid will require the team to continue its strong start to its development cycle as the season progresses.
An emerging rivalry with Triple Eight and growing threats from Prodrive and Mobil 1 HSV Racing looks set to thrust even more of a spotlight on the development race this year.
Lacroix expects more updates to arrive on the Shell V Power Racing Falcons in the coming months as the team continues to grow.
While a steady stream of new parts is crucial in improving performances on track, he says challenging the engineering group to come up with new concepts is equally important for the long term.
"Keeping developing is something NASCAR and IndyCar does week in week out, so we will be doing the same with what we have got at hand," Lacroix told Speedcafe.com.
"We are probably at the start of our development.
"We have done a couple of little things quickly and now we are looking at the big picture, but that takes a long time.
"There is not a lot of things to develop but a lot of things to refine.
"It is not like you are going to find a second here or there, but there are a lot of little things that we should do better.
"I think we will see some parts coming to the car in the next three months before Bathurst, and then the car will be where it should be for next year.
"It is important for the engineers in general to always think that there is something we can do better.
"If we roll out the same car week in week out you are not moving forward and the engineers step back.
"We will think together and work out if it (the idea) is possible in regards to time and money and if it is worth doing.
"If you say 'no' all the time the guys don't get interested in doing things. You need to keep people interested in developing.
"It doesn't need to be a big item, they just need to be kept on their toes."
Coming off the back of a one-two at Symmons Plains, Lacroix is hopeful the team's consistency will continue in the pair of 250km races at Phillip Island this weekend.
"I don't think you can translate Tasmania and Phillip Island as they are two very different tracks," he added.
"One is low drag and one is high downforce but what we can try to translate is the way we work together as a team.
"I keep telling people that if we can be in the top five at every meeting then we will be a contender for the championship."
The WD-40 Phillip Island 500 continues today with a 20 minute qualifying session at 1245 AEST ahead of Race 5 (1545).