Coulthard wins chaotic race of attrition at PI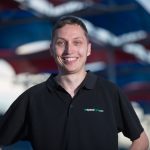 Fabian Coulthard emerged victorious from a chaotic Race 5 headlined by a series of tyre failures and penalties at the WD-40 Phillip Island 500.
The DJR Team Penske driver survived a tyre failure of his own to fight his way back through the field to to take the chequered flag in a race punctuated by three Safety Car periods.
It proved to be a race of attrition with approximately 17 tyre failures during the 250km heat, which forced teams to take drastic action, by making camber changes in the pits, to avoid further issues.
Coulthard, who led the early laps, actually crossed the finish line in second behind Craig Lowndes, but the latter had a 15 second time penalty for a pit lane infringement, which dropped him to 13th position.
"If I am honest, no, not really. We had a quick car, and the people we had to manage ourselves against were Scotty behind me and Frosty," said Coulthard.
"I didn't think for a second we would make it back to first, I thought maybe the podium was in reach."
The race ended with a green/chequered flag finish following a late Safety Car after Nick Percat hit Alex Rullo at Honda Hairpin with eight laps remaining.
Jamie Whincup came home in second while Garry Rogers Motorsport's Garth Tander scored third.
Tander appeared in the box seat to score a memorable win having taken advantage of earlier Safety Cars by pitting twice under caution.
The cautions were caused by tyre debris on circuit and a lap 38 clash between Cameron Waters and James Courtney.
He emerged in the lead as the race entered the final stages but he was unable to hold off a charging  Lowndes, Coulthard and Whincup.
Tander's race was initially hampered by a Turn 1 incident including multiple cars on the opening lap.
Shane Van Gisbergen came home in fourth despite being one of a group of drivers to fall foul of either cutting the entry of pit lane or the working lane prior to peeling into the pit bay
He was awarded a 15 second penalty.
The Kiwi was penalised along with Lowndes, Simona De Silvestro, Scott McLaughlin, who had led the race at halfway, Chaz Mostert, Lee Holdsworth, Taz Douglas and Percat.
Nissan Motorsport Michael Caruso finished fifth despite suffering a right rear puncture in the race.
His team-mate Todd Kelly came home an impressive sixth after he hit a marshal post hard during a multiple car incident on the opening lap.
Jason Bright recovered from two punctures to cross the finish line in seventh ahead of the sister #5 Prodrive Falcon of Mark Winterbottom.
The injured Will Davison fought through pain and a pit lane penalty for turning around Tim Slade at MG to finish ninth while McLaughlin rounded out the top 10.
De Silvestro had ran as high as second in the race before dropping to 13th following the time penalty.
Tyres were the talking point however with Coulthard, Moffat, Courtney, Mostert, Rick Kelly, Percat, Waters, Caruso, Blanchard, Bright, Pye, Slade and Douglas all suffering failures.
While the series of tyre failures created plenty of drama, there was action from the very start of the race with a multiple car crash at Doohan and the Southern Loop.
David Reynolds was edged out onto the grass and was followed by Holdsworth and Todd Kelly.
Reynolds came back onto the road at the Southern Loop before spinning his Holden.
Holdsworth came back on to the road and clattered into Brad Jones Racing's Nick Percat and Garry Rogers Motorsport's Garth Tander, forcing him off the road.
The incident saw Lowndes, Rick Kelly, Courtney, and Tander take avoiding action onto the grass.
Stewards elected to investigate the incident after the race.
Coulthard has assumed the lead of the championship following his second win of the season.
Rullo, Percat, Reynolds (Gearbox) and Wood (suspension) all retired from the race.
Results: Race 5, Virgin Australia Supercars Championship, Phillip Island
| | | | | | |
| --- | --- | --- | --- | --- | --- |
| 1 | Shell V-Power Racing Team | Fabian Coulthard | Ford Falcon FG/X | 51 | 01:36:25.3805 |
| 2 | Red Bull Holden Racing Aust | Jamie Whincup | Holden Commodore VF | 51 | 01:36:26.3157 |
| 3 | Wilson Security Racing GRM | Garth Tander | Holden Commodore VF | 51 | 01:36:26.4066 |
| 4 | Red Bull Holden Racing Aust | Shane Van Gisbergen | Holden Commodore VF | 51 | 01:36:29.1941 |
| 5 | Nissan Motorsport | Michael Caruso | Nissan Altima | 51 | 01:36:29.4711 |
| 6 | carsales Racing | Todd Kelly | Nissan Altima | 51 | 01:36:29.7586 |
| 7 | MEGA Racing | Jason Bright | Ford Falcon FG/X | 51 | 01:36:30.0827 |
| 8 | The Bottle-O Racing Team | Mark Winterbottom | Ford Falcon FG/X | 51 | 01:36:31.7609 |
| 9 | TEKNO Woodstock Racing | Will Davison | Holden Commodore VF | 51 | 01:36:33.8961 |
| 10 | Shell V-Power Racing Team | Scott McLaughlin | Ford Falcon FG/X | 51 | 01:36:34.7368 |
| 11 | Supercheap Auto Racing | Chaz Mostert | Ford Falcon FG/X | 51 | 01:36:34.8752 |
| 12 | TeamVortex | Craig Lowndes | Holden Commodore VF | 51 | 01:36:38.3079 |
| 13 | Team Harvey Norman | Simona De Silvestro | Nissan Altima | 51 | 01:36:44.3103 |
| 14 | Wilson Security Racing GRM | James Moffat | Holden Commodore VF | 50 | 01:36:26.8529 |
| 15 | Team CoolDrive | Tim Blanchard | Holden Commodore VF | 50 | 01:36:30.4637 |
| 16 | Sengled Racing | Rick Kelly | Nissan Altima | 50 | 01:36:31.6572 |
| 17 | Mobil 1 HSV Racing | Scott Pye | Holden Commodore VF | 50 | 01:36:32.8941 |
| 18 | Freightliner Racing | Tim Slade | Holden Commodore VF | 50 | 01:36:33.3134 |
| 19 | Monster Energy Racing | Cameron Waters | Ford Falcon FG/X | 50 | 01:36:33.8089 |
| 20 | Repair Management Aust Racing | Taz Douglas | Holden Commodore VF | 49 | 01:36:47.5100 |
| 21 | Mobil 1 HSV Racing | James Courtney | Holden Commodore VF | 48 | 01:36:34.5967 |
| 22 | Preston Hire Racing | Lee Holdsworth | Holden Commodore VF | 43 | 01:36:48.1516 |
| DNF | Repair Management Aust Racing | Alex Rullo | Holden Commodore VF | 51 | 01:39:01.3796 |
| DNF | BIANTE 1:1 | Nick Percat | Holden Commodore VF | 35 | 01:29:26.2179 |
| DNF | Erebus Penrite Racing | David Reynolds | Holden Commodore VF | 10 |    16:48.1125 |
| DNF | Erebus GB Galvanizing Racing | Dale Wood | Holden Commodore VF |  7 |    11:14.6583 |
Championship points: After Race 5
| | | |
| --- | --- | --- |
| 1 | Fabian Coulthard | 514 |
| 2 | Shane Van Gisbergen | 504 |
| 3 | Jamie Whincup | 471 |
| 4 | Scott McLaughlin | 408 |
| 5 | Chaz Mostert | 381 |
| 6 | Cameron Waters | 360 |
| 7 | Garth Tander | 348 |
| 8 | Craig Lowndes | 342 |
| 9 | Tim Slade | 300 |
| 10 | James Courtney | 291 |
| 11 | Michael Caruso | 279 |
| 12 | Mark Winterbottom | 279 |
| 13 | James Moffat | 246 |
| 14 | Todd Kelly | 241 |
| 15 | David Reynolds | 231 |
| 16 | Scott Pye | 228 |
| 17 | Rick Kelly | 222 |
| 18 | Lee Holdsworth | 210 |
| 19 | Simona De Silvestro | 207 |
| 20 | Jason Bright | 198 |
| 21 | Nick Percat | 168 |
| 22 | Will Davison | 150 |
| 23 | Tim Blanchard | 150 |
| 24 | Taz Douglas | 111 |
| 25 | Dale Wood | 108 |
| 26 | Alex Rullo |  66 |