Lowndes cops penalty for Waters Tassie clash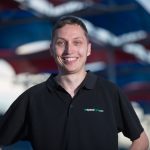 Craig Lowndes has been docked 15 championship points following an investigation into a clash with Cameron Waters at the Tyrepower Tasmania Super Sprint.
Television footage appeared to show Waters edge Lowndes wide at Turn 5 which sparked a reaction from the Triple Eight driver.
Lowndes tapped the rear of Waters' Monster Energy Falcon at Turn 7 which forced him wide and allowed the Triple Eight driver through.
Stewards elected to defer the investigation to the next event with officials at Phillip Island deeming Lowndes was at fault.
The veteran admitted to a charge of careless driving, which would normally spark a five-second penalty if issued during a race.
Despite being hit with the penalty Lowndes remains seventh in the championship standings.