Davison taking every precaution for PI return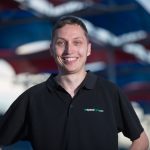 Will Davison will be taking every precaution to ensure his Supercars return at Phillip Island goes without a hitch as he continues to recover from injuries sustained at Symmons Plains.
The Tekno Autosports driver returned to the cockpit today less than two weeks after being hospitalised with a small fracture to an offshoot of a vertebra following a 12-car pile up in Race 3.
Although still feeling the effects of the injuries, the 34-year-old managed to complete the two 40 minutes session with the pain threshold bearable.
While confident he will be fit enough to tackle the pair of 250km heats, Davison will have several options at his disposal to help ease the discomfort.
Leading physio Jeremy Cross, who has worked with former MotoGP world champion Casey Stoner, has flown in from Adelaide to be on hand if required.
Davison competed today with his body carrying strapping around his kidneys while using a padded seat.
He expects to undergo a pain-killing injection prior to Saturday's race having used a milder form of medication today.
"I feel alright now. I've got my physio flying in tonight. It's Jeremy Cross, who looks after Casey Stoner and travels to testing with him, as well as Adam Scott the golfer," said Davison.
"He's a top physio. We'd been working together a little bit before this, but nothing serious.
"I know him, he knows Jamie (Whincup) well and Riana (Crehan, Will's fiancé) sees him a bit, but after this injury I've started seeing him.
"He's treated me the last few weeks, so it's good to get him here. He'll make it even better for me.
"I didn't do any local anaesthetic today, but I might tomorrow.
"I'm taking some pain killers and Doctor Carl (Le, Supercars medical delegate) asked me if I wanted more and I'd said I'd rather not. I'd rather try an anaesthetic tomorrow.
"We're just working through it, and I'm trying to take as little as possible – and Carl is supportive of that. I'd rather feel it and be alert and awake, not groggy.
"In reality it was not too bad, nothing excruciating, bearable.
"I'm pretty comfortable that I'll be alright for the long race. But it'll be a bit of a challenge for 250km, but I'm confident enough to go through.
Despite the discomfort, Davison was relatively happy with his pace behind the wheel of a rebuilt Tekno Autosports Commodore.
He finished fourth in opening practice before ending the day 13th in the second session.
"The first session was great, all things considered," he added.
"Normally a rebuild of this magnitude, you need a shakedown, and some stuff obviously carried over from the crash and you hope that there's going to be no niggles.
"In the second session we sort of had a couple of little problems which were just looking into now, but hopefully we'll get it all fully ironed out for qualifying tomorrow."