Erebus assists LDM with Commodore rebuilds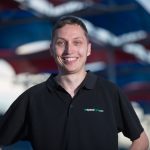 Lucas Dumbrell Motorsport will head to Phillip Island with both of its Commodores repaired after being lent a helping hand from rival team Erebus Motorsport.
The Melbourne operation left the Tyrepower Tasmania Super Sprint with significant chassis damage on its entries for Taz Douglas and Alex Rullo.
Douglas was withdrawn from Sunday's race after sustaining heavy damage in a 12-car pile up in Race 3 at Symmons Plains.
Rullo was also involved in the wreck before an off-track excursion in Race 4 saw the #62 suffer damage to the rear of the repaired chassis.
Facing extensive repairs and tight turnaround to Phillip Island, Erebus Motorsport offered the services of newly recruited full-time fabrication specialist James White to the team.
Equipped with a jig, White was dispatched to LDM to assist with the rebuild of the two cars, which included a new front bar on the #3 and a repair of the rear chassis rails on the #62.
The cars were completed yesterday before heading to Phillip Island.
Team boss Lucas Dumbrell praised the efforts of White and his team to ensure the cars were ready for this weekend's pair of 250km races at the WD-40 Phillip Island 500.
"The cars are okay and they are now back together but it has been painful couple of days," Dumbrell told Speedcafe.com.
"The cars remained on site and there was a fair bit of jig work but James White from Erebus helped us out for a couple of days.
"The guys have done an awesome job and they didn't have much of an Easter.
"Without question they have put a massive amount of hours in and they have done over and above their normal jobs.
"We were in a bit of a tougher spot compared to other teams as we don't have a spare car.
"Fortunately the damage wasn't so bad that we couldn't repair it."
Erebus general manager Barry Ryan says the team was happy to help LDM given it escaped Tasmania without serious damage its Holdens.
"It is part of what we want to do with James (White) is to help other teams out," Ryan told Speedcafe.com.
"We hope to be able to help everyone in pit lane get stuff done more efficiently.
"We had all the jig equipment through James which we were able to bring on site and help fix his (Lucas') cars."
LDM has confirmed Douglas will continue to pilot the #3 Commodore on a round-by-round basis as the team continues its search to find a driver for the remaining rounds of the championship.