GT Academy winner set for new GT challenge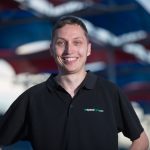 Australian GT Academy winner Matt Simmons is set to make the leap to the Blancpain Endurance Series professional class at this weekend's Monza season opener.
The gamer turned racer from Brisbane will embark on only his second season in competitive motorsport since winning the coveted Nissan Playstation GT Academy in 2015.
Simmons' prize for winning the competition was a factory drive in a Nissan GT-R GT3 in the Pro-Am tier of Europe's elite GT3 series last season.
The former postman will continue with Nissan's RJN squad this year where he will join former single seater racers Matt Parry and Struan Moore in the Pro class #22 GT-R.
After undergoing a test at the Paul Ricard Circuit last month and a Nissan training camp in Monaco, Simmons will head to Italy for the first of the five-round Blancpain Endurance Series this weekend.
"It's crazy to think how quick 12 months has gone by and, this time, I will be arriving at Monza not as a rookie – I have a season of experience under the belt," said Simmons.
"I am extremely excited for the season to begin and ready to see how far I have come and just get down to what we love doing … racing.
"Personally, I feel like I have made leaps and bounds compared to last year so it has been a really positive start.
"My main goal is to improve on what I achieved last year.
"I am fortunate to have a benchmark to work with so I will be working hard with the team to continue my development in all areas of the race weekend.
"It's hard to set any expectations with the insane competition in Blancpain GT Series although we are confident that if we get everything right on Sunday, we can be competitive."
The Blancpain GT field will be armed with a new Pirelli tyre compound this weekend which should provide teams a new variable to contend with.
"The major change is the new Pirelli tyre compound for this season," he added.
"The early signs show the new tyre works well for our car so it's a push in the right direction for us."
The 53-car Blancpain Endurance Series grid will tackle a three hour race at Monza on Sunday.
VIDEO: Nissan Blancpain Endurance Series Preview