Davison quietly confident of PI racing return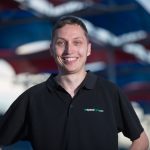 Will Davison remains confident of a Supercars return at Phillip Island this weekend but admits Friday's opening practice session will ultimately determine if his body will stand up to the rigours of racing.
The 34-year-old is determined to return to the cockpit less than two weeks after sustaining a small fracture to a bone connected to a vertebra in his back in a multiple car crash at Symmons Plains.
Davison suffered a massive 46G impact in the incident which saw him spend a night in Launceston General Hospital.
Since then the Tekno Autosports driver has returned to his Gold Coast home  to aid his recovery, and this week has been given green light by medical staff to compete.
While quietly confident he will be able to cope with the stresses required to drive, he admits every hour up until Friday's opening practice session is critical.
"I'm feeling pretty good," Davison told Speedcafe.com.
"There is just a big unknown until you get in a race car. You don't really know how you are going to cope.
"It is going to take little while before I'm 100 percent.
"I'm quite confident from the tests I've had and the training I've done that I will be able to cope with the car.
"It is day by day and I'm counting on every hour of the next 48 to further my recovery.
"I'm cleared of any major danger and it is up to me as to whether I'm capable and comfortable enough to withstand the loads.
"I've been given the green light on the concussion and the fracture in my back.
"It (the back) is stable and it is just ribs and ligament damage that I can't do any real further damage it is just very uncomfortable.
"You do all you can but until you jump in the car and drive you are not 100 percent sure, but I'm confident enough to know that I can go and give it a go.
"I wouldn't be attempting it if I didn't think I was a chance. I've been pretty determined and set myself a goal.
"It has been a tough 10 days, I won't lie, but I have made really good progress in the last four or five days."
On Tuesday Davison stepped up his preparations by undertaking a session in state-of-the-art Motionforce1 simulator operated by McElrea Racing, which simulates forces drivers sustain in race cars.
He will however have to prove he can exit his car sufficiently before receiving the full clearance to compete at the WD-40 Phillip Island 500.
"You can't quite simulate the lateral forces in the corners (in the simulator) which is a probably a little bit of a concern for me, but it simulates braking and the braking pressures and the steering loads are very accurate," he added.
"I was sitting in a Racetech seat which is quite restrictive around the ribs. I felt quite good getting through all of that. It was just another step.
"I believe they (Supercars) have got to examine me getting in and out of the car.
"I know I can do that quickly. It hurts rushing it and don't want to have to do but I have got the movement there to get out quick."
Davison will work closely with Supercars medical delegate Dr Carl Le during the weekend.
The Gold Coast-based driver has revealed his body will be heavily strapped, while his race seat in the fully repaired Tekno Commodore will be fitted with extra padding to further relieve the pressure on his injuries.
Tekno Autosports completed a mammoth rebuild of Davison's car late on Tuesday with the squad's truck leaving the workshop at 1am this morning.
Davison says he has been humbled by the lengths his team has gone to during the Easter period to repair the Commodore for Phillip Island.
"You always think that by hook or by crook it was going to get done but when I see the hours they have put in and the extra people that have chipped in. They have nearly worked a miracle," he added.
"I think the quality of the work and the spirit they have shown is what has impressed me the most.
"There have been a lot of issues getting the stuff we need and it has require a lot of extra effort not just from Tekno but Triple Eight and people at Pace Innovations."