Ricciardo laments soft tyre pace in Bahrain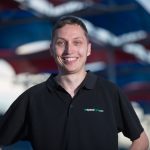 Daniel Ricciardo was left to rue a lack of pace on soft compound tyres after a strong opening stint in the Bahrain Grand Prix that had him believing he was in contention for victory.
The Red Bull driver showed encouraging speed in the early stages by challenging the front running Valtteri Bottas (Mercedes), Sebastian Vettel (Ferrari) and Lewis Hamilton (Mercedes).
The Australian ran as high as third after electing to pit under the Safety Car but his race began to unravel in the second stint of the race.
Ricciardo was unable to build the temperature sufficiently in his soft compound rubber which saw him slide to sixth before eventually coming home in fifth after a final run on super-softs.
His team-mate Max Verstappen retired from the race after suffering brake failure on lap 12.
"It was a race of two halves really," said Ricciardo, who started from fourth on the grid.
"At the beginning I genuinely thought we had a chance to win.
"That stint was looking very competitive and I could see Valtteri (Bottas) was struggling.
"I was at the tail end of the front pack and I could see everyone else in front of me – they were sliding and looked like they were struggling more.
"It was easy for me to stay there and I was looking after my tyres, so at that point I was thinking it could be on today, not only for a podium but for a win.
"The safety car worked for me in that we jumped up to third but it wasn't so good for our tyres and that's where we lost a lot of ground.
"Even once we settled into a pace and the chaos settled we fell back and I was struggling with grip at the front and rear.
"We never really got that (soft) tyre working for us today."
Ricciardo is lying sixth in the championship standings ahead of the Russian Grand Prix from April 28-30.