Bottas edges Hamilton to claim maiden F1 pole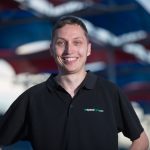 Valtteri Bottas scored a maiden pole position of his Formula 1 career after edging his Mercedes team-mate Lewis Hamilton in qualifying for the Bahrain Grand Prix.
Bottas saved his best until the dying moments of the session as the Finn pipped Hamilton by 0.023s with his final effort in Q3.
"I'm really happy as it is my first pole of my career," said Bottas.
"It took a few races to get it and hopefully it is the first of many."
Hamilton had led the way after the first runs in the final part of qualifying before Bottas struck.
The three-time world champion tried to respond to his new team-mate's time but a scruffy final lap saw him settle for second spot.
Ferrari's Sebastian Vettel emerged in third albeit almost half a second shy of the Mercedes duo.
Red Bull's Daniel Ricciardo produced another impressive display in qualifying to split the two Ferraris with his final effort.
The Australian was lying seventh after his first run before he placed his RB13 ahead of Kimi Raikkonen's Ferrari, while Max Verstappen was sixth in the sister Red Bull.
"It is a bit of surprise, we thought if we put everything together there might be a chance for a spot on the second row," said Ricciardo.
"If they run into some tyre degradation we might be able to mix it with the front running guys."
Renault enjoyed its most encouraging showing of the season so far with Nico Hulkenberg seventh and team-mate Jolyon Palmer in 10th spot.
The French manufacturer sandwiched Felipe Massa (Williams) and Romain Grosjean (Haas F1).
Daniil Kvyat narrowly missed out on securing a spot in the top 10 in 11th position with the Russian driver in front of rookie Lance Stroll (Williams).
Sauber's Pascal Wehrlein completed his first qualifying session of the season in 13th ahead of Force India's Esteban Ocon.
McLaren encountered more issues with the Honda power unit on Fernando Alonso's car.
The double world champion was unable to log a lap in Q2 after suffering an engine failure at the end of Q1.
Meanwhile, Carlos Sainz ground to a halt on the track towards end of the first segment of qualifying.
The Spaniard was on a strong lap that could have lifted the Toro Rosso driver out of the drop zone before the issue struck.
As a result, he will start from 16th position ahead of McLaren's Stoffel Vandoorne.
Force India's Sergio Perez was among those to fall at the first hurdle along with Marcus Ericsson (Sauber) and Kevin Magnussen (Haas F1).
The Bahrain Grand Prix is scheduled to start at 0100 AEST on Monday morning.
Result: Formula 1 Bahrain Grand Prix Qualifying  
| Position | Driver | Car | Time | Gap |
| --- | --- | --- | --- | --- |
| 1 | Valtteri Bottas | Mercedes | 1:28.769s | |
| 2 | Lewis Hamilton | Mercedes | 1:28.792s | 0.023s |
| 3 | Sebastian Vettel | Ferrari | 1:29.247s | 0.478s |
| 4 | Daniel Ricciardo | Red Bull/Renault | 1:29.545s | 0.776s |
| 5 | Kimi Raikkonen | Ferrari | 1:29.567s | 0.798s |
| 6 | Max Verstappen | Red Bull/Renault | 1:29.687s | 0.918s |
| 7 | Nico Hulkenberg | Renault | 1:29.842s | 1.073s |
| 8 | Felipe Massa | Williams/Mercedes | 1:30.074s | 1.305s |
| 9 | Romain Grosjean | Haas/Ferrari | 1:30.763s | 1.994s |
| 10 | Jolyon Palmer | Renault | 1:31.074s | 2.305s |
| 11 | Daniil Kvyat | Toro Rosso/Renault | 1:30.923s | Q2 |
| 12 | Lance Stroll | Williams/Mercedes | 1:31.168s | Q2 |
| 13 | Pascal Wehrlein | Sauber/Ferrari | 1:31.414s | Q2 |
| 14 | Esteban Ocon | Force India/Mercedes | 1:31.684s | Q2 |
| 15 | Fernando Alonso | McLaren/Honda | No Time Set | Q2 |
| 16 | Carlos Sainz | Toro Rosso/Renault | 1:32.118s | Q1 |
| 17 | Stoffel Vandoorne | McLaren/Honda | 1:32.313s | Q1 |
| 18 | Sergio Perez | Force India/Mercedes | 1:32.318s | Q1 |
| 19 | Marcus Ericsson | Sauber/Ferrari | 1:32.543s | Q1 |
| 20 | Kevin Magnussen | Haas/Ferrari | 1:32.900s | Q1 |