Ricciardo: No quick fix to improve Red Bull pace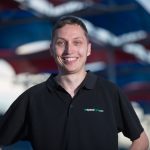 Daniel Ricciardo has warned that Red Bull's deficit to Mercedes and Ferrari will require much more than a quick fix to resolve ahead of this weekend's Bahrain Grand Prix.
The Milton Keynes squad has struggled to match its rivals this season with the Australian claiming the RB13 is 1.3s adrift of the front running squads following the opening two races in Melbourne and Shanghai.
Red Bull was tipped to be among the championship contenders following Formula 1's decision to introduce sweeping regulation changes this year, focussing on increasing downforce through aerodynamics.
However, an uncharacteristic lack of rear downforce on the RB13 coupled with a Renault engine short on pace has seen the squad lagging behind their rivals.
After finishing fourth in last weekend's Chinese Grand Prix, Ricciardo doesn't expect his situation to improve until the European season begins at the Spanish Grand Prix next month.
Red Bull is expecting to unleash car upgrades alongside a minor Renault engine update ahead of a major power unit overhaul at the Canadian Grand Prix in June.
"We know we're still not on their pace. It's not like we're looking for three, four tenths – we're looking for more than a second," said Ricciardo.
"That doesn't happen overnight. We always feel once we get to Europe things start to brighten up for us, so I'd like to say by the time we get to Barcelona we can get that [gap] below a second and then try to chip away at it from there.
"I think we've got an update around Canada, an engine one, but right now we're obviously too far away.
"But we don't have a massive cure yet to say 'yep, by this race we're going to be on their pace'. It's going to take steady work."
"We are talking over a second – it needs to be something bigger than a new front wing or something like that.
"I'd love to say it could be a quick fix like that and all of a sudden we'll find a second (of lap time), but realistically it would be something bigger than that. What it is I don't know."
Opening practice for the Bahrain Grand Prix at the Sakhir International Circuit is scheduled for 2100 AEST.