Work underway to repair Tekno Commodore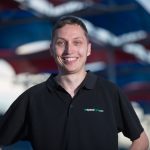 Tekno Autosports faces a race against time to rebuild Will Davison's Commodore ahead of next week's WD-40 Phillip Island 500.
The heavily damaged #19 Holden has undergone an assessment by chassis specialist Pace Innovations in Queensland having returned from Tasmania on Tuesday.
The car suffered a 46G impact into the side of Rick Kelly which has rendered the #15 Nissan Altima a write off, following the 12-car crash at Symmons Plains in Race 3.
Early indications have revealed the Tekno Commodore will require a sizeable repair including new front and rear bar, with the team hoping the car will return to the workshop on Sunday.
The squad does not have a spare chassis at its disposal.
Davison, who is aiming to make a return at Phillip Island if deemed fit, is hopeful the Gold-Coast based squad will be able to repair the car in time.
"I've just literally had my first little run into see them and hand out a few Easter eggs because unfortunately they're not going to be home much over the weekend, which really sucks, but they've all got a smile on their face," said Davison on Fox Sports' Inside Supercars.
"They've dug into the car yesterday, sent it straight off to Pace (Innovations), and it's going to be a huge weekend.
"I believe the main centre cage part of the chassis is okay, which is big news, and obviously it's going to get a whole new front and rear put on, so hopefully it'll get back by Sunday,
"As I said it's going to be a huge mission to get the car put back together and in the truck by Tuesday, but they're all positive, they're going to give it everything they've got to make it happen.
"I'll just work on getting myself ready. I'm confident and I'm really keen to be on the grid next week, and as I said, I reckon I'll be right."
Davison suffered a small break to a transverse process, which is a small bony projection attached to a vertebrae, as a result of the crash.
He expects to make a decision regarding his own fitness to compete at Phillip Island early next week.