Chassis switch for Bright at Phillip Island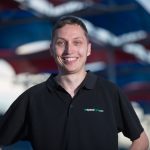 Jason Bright will return to the chassis he used at the season opening Clipsal 500 after his car suffered damage following a crash in Race 4 at the Tyrepower Tasmania Super Sprint.
The Supercars veteran made heavy contact with the barriers when the #56 Mega Fuels Falcon snapped to the right after hitting a wet patch on the exit of Turn 6 at Symmons Plains.
Bright had gambled on running slick tyres on the damp track when the crash occurred, which brought out the first Safety Car in last Sunday's race.
The impact caused heavy damage to the front of the Falcon which has seen Prodrive prepare the former Super Black Racing FG X for Bright to utilise at the WD-40 Phillip Island 500 (April 21-23).
The 44-year-old finished 21st and 15th piloting the car at the Clipsal 500, before moving to the chassis which guided Mark Winterbottom to 2015 Supercars title.
"It (the car) has got a significant amount of damage and it will need to go back onto the jig so I would say he will definitely be back in the car that he raced at Adelaide for Phillip Island," Prodrive boss Tim Edwards told Speedcafe.com.
"We have got the spare car sitting there, it is still sitting in his colours from Adelaide so we will just put an engine and a transaxle in it and he can race that at Phillip Island.
"This means we can take a measured approach to the repair of his car and make sure it is a 100 percent.
"Where the front wheel has gone back it has just bent a couple of the bars in close proximity to that which is not uncommon in these cars.
"You have these two bars in the wheel well, as soon as you push the wheel back it bends them."
Bright is lying 22nd in the championship standings heading into next week's WD-40 Phillip Island 500.