Rick Kelly suffers leg injury after Tassie crash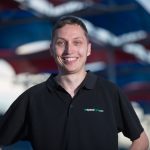 Scans have revealed Rick Kelly has suffered two minor muscle tears in his left leg following the 12-car crash at the Tyrepower Tasmania Super Sprint.
The Nissan Motorsport driver underwent an MRI scan in Melbourne on Tuesday, organised by Supercars medical delegate Dr Carl Le, after reporting some discomfort following the accident.
Kelly sustained several impacts in the crash including a huge 42G impact when Tekno Autosports' Will Davison collided with the #15 Altima.
Davison suffered a break to a small bone attached to the vertebrae which has cast doubt regarding his fitness to compete in the WD-40 Phillip Island 500.
While confirming the injury will not prevent him from racing at Philip Island next week, Kelly expects the muscle tears to heal within the next two weeks.
"We are very lucky to have Dr. Carl in our sport," said Kelly.
"Seeing how he worked on the track was impressive, but then the follow-up and organising the MRI on my leg has been unreal.
"The process for me has been a good one. I still had a sore leg a few days after, so we just had it checked. It confirmed I've got a couple of muscle tears inside my leg above my knee.
"They'll heal over the next 1-2 weeks and will be brand new again. They certainly won't stop me from driving."
Nissan Motorsport is building up spare chassis #003 for Kelly after his #15 Sengled Altima was destroyed in the crash at Symmons Plains.
Kelly will pilot the chassis for the next four events while the Braeside operation builds a new car for the 2006 Supercars champion.
The chassis was last used by James Moffat at the Sydney 500 in 2015. The car also guided Moffat to Nissan's first race win since returning to Supercars at Winton in 2013 and a podium at the Bathurst 1000 the following year.
Following the Townsville event in July,  the car will head to Matt White Motorsport for use in the Dunlop Super2 Series.
"Chassis #003 has had over a year off, so it's well rested and I think it's itching to get back on the track," added Kelly.
"It's definitely come from some iconic results with Moff. Particularly the podium at Bathurst in 2014 as well as the iconic victory at Winton in 2013.
"It's cool to jump in that car. But it's a shame to hop out of the car that I had. It still had the new car smell.
"As much as you don't want this to happen, it is part of the sport.
"You can't expect to get through a whole year without this sort of thing happening.
"I took a walk around to each department today and it's great to see so many aspects coming together – everything from fabrication, to machine shop, to paint booth, to composites, to sub-assembly, to engine room.
"It's been great to see everyone's positive attitude."