Prodrive optimistic for Tassie after Albert Park gains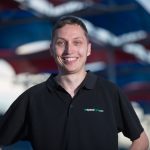 Prodrive Racing Australia heads to Tasmania ready to ignite its season having found gains across all four of its Supercars entries since Albert Park.
The Melbourne squad has made solid but unspectacular start to the season, placing it firmly in the chasing pack behind Triple Eight and DJR Team Penske ahead of the trek to Symmons Plains.
A podium finish at the Clipsal 500 for Chaz Mostert followed by the Queenslander's drought breaking victory in the final sprint race at the non-championship Australian Grand Prix meeting remain the team's best results of far.
However, gains found at Albert Park and in the lead up to Tasmania has Prodrive boss Tim Edwards feeling his team will pose a threat at the Apple Isle.
"We are quietly optimistic. We go to every race with that mindset and we certainly think we have a good chance of victory, but the proof will be in the pudding," Edwards told Speedcafe.com.
"The focus hasn't really been on us but it was only 18 months ago that we won the championship so we know how to do it and it is certainly our intention to do it again.
"This category never ceases to amaze me with how competitive it is, you just have got to attack every single race."
Rejuvenated by the return of engineer Adam De Borre, Mostert is reaping the rewards from a new direction being undertaken to improve his Supercheap Auto Falcon.
Although his victory at Albert Park arrived after both Fabian Coulthard and Jamie Whincup faltered, Edwards is pleased at the incremental progress being made on the #55 FG X.
"We got it better and better throughout the (Albert Park) weekend, every single race we were more and more competitive than the one before so we were trending in the right direction," he said.
"There are certainly plenty of positives we can take from the weekend and certainly good for Chaz to get the monkey off his back."
While Mostert has left the way for the team, team-mate Mark Winterbottom has endured a frustrating run in the opening two meetings, having been plagued by an engine issue at the Clipsal 500 followed by a brake problem at Albert Park.
Prodrive is confident extensive work carried out since Clipsal and Albert Park has solved the issues.
"It is just one of those little anomalies when you put 2000 parts together to make a car, occasionally you will stumble across one bit that is not quite right," Edwards added.
"Tracking that down and understanding takes a bit of time but we are confident we found most of it so we can put that to bed."
Meanwhile, a weekend of trialling set-ups at Albert Park has provided valuable information for Cameron Waters and Jason Bright as they continue to find the set-up sweet spot in the #6 Monster Energy and #56 Mega Fuels Falcons.
The team will continue to trial its new leg protection safety device in Winterbottom's Falcon this weekend ahead of a planned roll out for all four entries later in the season.
Based on the concept developed by DJR Team Penske, the system made its debut in the #5 car at Albert Park two weeks ago.
"We certainly intend to roll it out across all cars, just from a manufacturing perspective it is just about keeping up," Edwards said.
"Frosty is the only car still with it this weekend, but hopefully by the next race we will have a second car and so on and so on.
"It is a little bit different for the driver but it is just one of those things, they get used to it pretty quickly."