Olympian set for racing debut at Sandown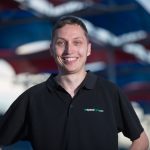 Olympic silver medallist John Steffensen will make his first step on the motor racing ladder at Sandown this weekend as he sets his sights on a new career path.
The talented former Australian track athlete has long held an ambition to race competitively and will fulfil that dream by contesting the Porsche GT3 Cup Challenge series with Zagame Motorsport.
The 2004 4x400m relay Olympic silver medalist and 2006 Commonwealth 400m champion has undergone weeks of intense training to secure his race licence under the guidance of Zagame Motorsport boss Cameron McConville.
Having retired from athletics in 2014, the 34-year-old has been seeking an arena to compete again and sees motorsport as a discipline to fill that void.
Steffenssen is set to pilot a Repair Management Australia backed Porsche in the series which features on the Shannons Nationals bill.
"This has allowed me to tap into that competitive edge again now that I'm not running anymore," Steffensen told Speedcafe.com.
"It is great to get that feeling back without thrashing my body.
"Just because I'm retired doesn't mean I didn't like winning but I don't let my ambitions supersede my talent.
"It has been great getting to know the team. It reminds me very much of my running days with the relationship with your engineer similar to that of a coach.
"Testing has been really positive too.
"I have been lucky enough to test a few different cars at Phillip Island, Winton and Sandown.
"Cam and the team has structured everything in a very professional manner. I think we have taken the right steps in getting my licences and CAMS and everyone has been very supportive.
"It looks like a well controlled series so I'm excited."
Steffensen will feature among an 18 car grid at the Sandown series opener.
Porsche GT3 Cup Challenge Sandown Entry List
1. #13 Sam Shahin (Elite Class) HTFU
2. #16 John Karytinos (Elite Class) Richmonds Automotive
3. #19 Anthony Gilbertson (Elite Class) Hallmark Homes
4. #21 Shane Barwood (Elite Class) Melbourne Orthopaedic Group
5. #23 Brenton Grove (Professional Class) Grove Hire
6. #25 Nick Karnaros (Elite Class) Porsche Centre Brighton
7. #29 Rob Woods (Elite Class) Platinum Nightclub
8. #34 John Morriss (Elite Class) Motorsport Leasing P/L
9. #65 Ben Stack (Elite Class) DNA Racing
10. #66 Aaron Ireland (Invitational Class) Creditline Finance
11. #68 Michael O'Donnell (Elite Class) SHOAL/Thomson Geer
12. #78 John Steffensen (Professional Class) Zagame Autosport
13. #79 Jordan Love (Professional Class) Sonic Motor Racing / Quintis
14. #81 Michael Tsigeridis (Class B) Hunter French Real Estate
15. #84 Brett Boulton (Elite Class) Bold Living
16. #87 David Creig (Class B)
17. #88 Phil Morriss (Elite Class) Morriss Racing Services
18. #99 Ross McGregor (Elite Class) Southern Star Windows