VIDEO: LMP3 driver injured after Monza shunt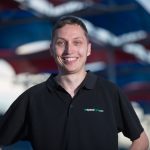 Yvan Muller Racing's Gwenael Delomier has suffered a broken vertebra following a violent crash during the European Le Mans Series prologue at Monza.
The Frenchman was piloting a Norma M30 LMP3 which he was sharing with former Australian Formula 3 star Ricky Capo, Yann Ehrlacher and Natan Bihel.
Delomier lost control of the car heading towards the high speed Ascari corner before clouting the barriers, which then sparked a series of rolls.
The car is expected to be repaired in time for the European Le Mans Series season opener at Silverstone from April 14-15.