Mawson ready for FIA European F3 challenge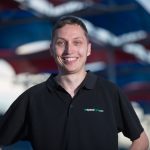 Rising single seater star Joey Mawson believes he is ready to tackle the hotly contested FIA European Formula 3 Championship following a strong pre-season test program.
The reigning German Formula 4 champion successfully completed two-day tests at Hungary's Hungaroring and Austria's Red Bull Ring.
Sydney-born Mawson was second fastest on the opening day at Hungary before ending the four-day program ninth and top rookie at the Red Bull Ring this week.
The 21-year-old, driving for the top Dutch Van Amersfoort Racing team, feels his squad has a strong direction heading into the new season.
"With test days being limited throughout the year it was very important to get the most out of these four days and I think we achieved a huge amount," said Mawson.
"It was good to show pace early in the week to know where we sat, which then allowed us to focus in on specific areas that we felt needed small improvements.
"These four days were vital to get a good base to start the year with and I'm pleased to say that we've come away with a clear direction.
"While I'm very happy with how the test days went, it doesn't count for anything once we roll out for qualifying at the opening round.
"We've got to now sit back and assess all of the data to make sure we learn as much as possible before Silverstone."
Mawson will begin his maiden FIA European F3 season at Silverstone from April 14-16.