Lakeside reopens following Cyclone Debbie floods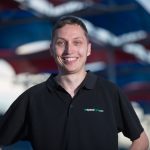 Lakeside Raceway has reopened today less than 24 hours after torrential rain from ex-Cyclone Debbie swept through Queensland.
The circuit, situated 30km north of Brisbane, was forced to close its doors yesterday due to localised flooding caused by adverse weather conditions.
Floodwaters reached waist high during their peak as more than 200mls of rain fell around Brisbane and the surrounding areas.
However, water levels subsided overnight allowing circuit staff to open as normal today as the venue prepares to host a round of the Queensland Racing Drivers' Championship this weekend.
"We have been able to run practice sessions since this morning," Matthew Ronke competition manager for Queensland Raceways, which runs both Lakeside and the Ipswich circuit, told Speedcafe.com.
"All the water had gone by first thing this morning. The Lakeside crew sept the track and it was ready go by 9:30am.
"There was a fair bit of water on the track but the lake was pretty low so the water was able to drain away pretty quickly.
"The forecast is looking really good over the weekend, so we should run ok.
"The winds were so strong today it has seemed to dry the circuit out quite well and it's quite surprising how good it has come up."
Track action is scheduled to run without issue throughout the weekend.