Denyer released from hospital after rally crash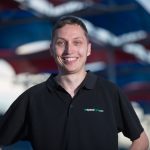 Grant Denyer has been released from hospital as his recovery from a frightening rally crash continues.
The Network Ten television host suffered a broken coccyx and finger when his Lotus plunged off the road during the Lake Mountain Sprint Rally last Sunday.
The crash also saw co-driver Dale Moscatt cut from the wreckage having sustained a broken knee.
Denyer was airlifted to The Alfred Hospital in Melbourne from which he was released today.
Mobile on crutches, he is expected to make a full recovery within six weeks.
"I'm very happy to say, I'm out of hospital and on my way home today," read a post on Denyer's official Facebook page.
"Things are on the improve. My broken Sacrum is painful but manageable with bed rest and medication. I'm able to walk on crutches now which is great progress, so it should be a straight forward healing process over the next six weeks.
"More bruising has started surfacing in places I didn't know I'd even injured, clearly a reminder of how big an impact it was into the tree.
"The body was given a good stretch, even though the car did exceptionally well in keeping us safe. The roll cage held up perfectly and the car design did its job.
"Although parts of me like my hand look pretty alien, covered in all colours of the rainbow. But thankfully it's just bruising.
"It was great to have family by my side over the last few days. Nothing like having the one's you love near when you're a bit busted and broken.
"Scout keeps giving Daddy lots & lots of kisses and Sailor has been reading me her books and drawing me pictures. It's a blessing to all go home together today with my spectacular wife Chezzi who has been extraordinary. Couldn't do it without her.
"I'm in contact with my navigator and mate Dale, many times a day, sharing ideas on how to make our recovery as comfortable as possible for the both of us.
"He's in great spirits and we're both finding plenty of things to laugh about and be thankful for. I wish him the best as he continues to get well.
"I'll lay low for a few weeks to rest and recoup but rest assured I'll be back brighter than ever in no time at all.
"Finally, I just want to say a massive thank you for all the amazing messages of support. It's been truly touching and so wonderfully uplifting during this time. Can't thank you enough. Love GD."
Co-driver Moscatt has also returned home after undergoing a operation on his knee.
"I'm not going to bore you all with millions of recovery posts but I am feeling very lucky and relieved to be released from hospital today," read a post from Moscatt's Facebook page.
"I managed to walk onto the plane (as well as ask the pilot to land as soft as possible) and am home resting with my beautiful wife, family and kids here.
"GD has unfortunately been through similar before and has been amazing throughout (you really needed to see our texts and FaceTime calls to understand how even painful laughing has helped us both).
"Over the next short period I will get back to you all personally to thank you."
VIDEO: Denyer and Moscatt's frightening crash 
CRASH VIDEO: The sickening moment TV star @grantdenyer careered off the track during a rally car race. #TenNews #Exclusive pic.twitter.com/jENEPP65Ai

— Ten News Melbourne (@tennewsmelb) March 28, 2017