Mostert returns to defend Bathurst 6 Hour title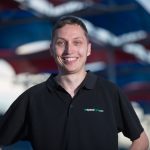 Supercars star Chaz Mostert will team up with Dunlop Super2 Series driver Nathan Morcom to defend their Hi-Tec Oils Bathurst 6 Hour title next month.
The Prodrive Racing Australia driver is set to pilot a new Class A1 Ford Focus RS alongside Morcom in the production car Mount Panorama endurance held from April 14-16.
Last year Mostert and Morcom combined to win the inaugural Bathurst 6 Hour behind the wheel of a Class B BMW 335i.
Organisers have confirmed a record 66 car entry of this year's race with representation from 17 manufacturers.
"It was a pretty easy decision really, the race was so fun last year and Nathan asked me to do it again with him," Mostert told Supercars.com.
"The race has a lot of great drivers in it already and the field is bigger and better this year.
"I'm excited to compete on any weekend I can and I'm excited to race around Bathurst again in such a cool car."
Morcom is eagerly anticipating another opportunity to compete alongside Mostert at the 6.2km circuit.
"Can't wait to get back to this track again in just over two weeks time with my mate Chaz Mostert for us to defend our Bathurst Hi-Tec Oils 6 Hour title but this year it's with a twist as we are teaming up again, in a new car and also new supporters too," read a post on Morcom's Facebook page.
The Bathurst 6 Hour will also double up as the opening round of the Australian Production Car Series.