Percat Commodore repair ahead of schedule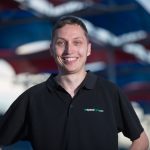 Brad Jones Racing remains confident it will have Nick Percat's Commodore repaired in time for next weekend's Tyrepower Tasmania Super Sprint.
The Albury team has been forced to undergo a mammoth rebuild of the #8 entry after it suffered extensive damage following a crash in the opening heat of the Coates Hire Supercars Challenge at Albert Park last week.
Percat emerged unscathed from a high-speed crash involving the Preston Hire Racing Commodore of Lee Holdsworth, which was triggered by a brake failure.
"We are actually probably a day ahead of where I thought we would be which is due to the work ethic of the guys and girls here," BJR boss Brad Jones told Speedcafe.com.
"We cut all the back off the car so all the trans-axle mount has been cut off and replaced and everything around that.
"It will have a different transmission and a repaired fuel tank box, everything on the back of the car has been replaced.
"All the componentry, shock absorbers and rear subframe has also been replaced.
"We are still working into the night but we are going on ok and really good progress is being made. It will get done (in time).
"Everytime something like this happens the guys step up and we have had more than our fair share of big accidents in the last 12 months."
The squad has sent the brake calliper which failed on Percat's car back to supplier AP Racing in England for analysis.
Meanwhile, Preston Hire Racing is close to completing the rebuild of Holdsworth's car.
The squad were hoping to repair the car in time for last Sunday's final race but fell just short of completing the job.
Holdsworth's car sustained heavy chassis damage at the rear, which also required a new subframe.
Although disappointed to be sidelined for three races at Albert Park, team boss Charlie Schwerkolt is glad his crew were able to turn around the car for Tasmania.
"We were really disappointed not be able to carry on our fast pace at the weekend, but I'm proud of the guys for how they have repaired the car."
VIDEO: Brad Jones Racing get to work on repairing the #8 Commodore