Whincup: AGP should stay a non-championship event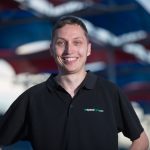 Jamie Whincup says he would prefer Supercars' involvement at the Formula 1 Australian Grand Prix to remain a non-championship round in the future.
Supercars has been pushing for several years to upgrade the annual Albert Park meeting to a championship round but attempts have been blocked by Formula 1 management.
Australia's premier domestic series has featured on the Formula 1 Australian Grand Prix support bill every year except 2007, although its races have never counted for championship points.
Whincup believes the event should remain unchanged claiming the event's status produces more pure racing than a championship round.
The six-time champion, who scored three top 10 finishes from the four sprint races last weekend, feels any tweaks would harm the current spectacle.
"(The racing) is on, I think that is part of no points, to be honest I think it is a good thing," said Whincup.
"Everyone is pro for a championship round but I don't agree with that, I like it the way it is.
"I don't believe that every round that we compete in needs to be a championship round, that is my opinion.
"I know a lot of people will crow this place (Albert Park) has to be a championship (round) but I don't agree with that.
"The racing is cracking, everyone is pushing hard, it can't get any better and championship points are not going to make it any better again.
"It is already right up there as it is.
"It proves what motorsport is all about. It is not about anything else but just going out there and trying to beat your mates.
"It is refreshing that we don't need points, we just go out there and race hard."
Whincup will aim to kick start his championship campaign when the series heads to the Tyrepower Tasmania Super Sprint from April 7-9.