Webber: F1 poised for 'phenomenal' title battle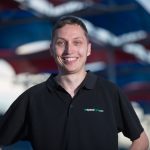 Sebastian Vettel's breakthrough win has laid the foundations for a Formula 1 title battle to remember, according to Mark Webber.
Vettel produced a faultless display at Albert Park on Sunday to break a 27 race drought for the Maranello team which stretched back to the Singapore Grand Prix in 2015.
A smart strategy combined with impressive pace saw off a strong challenge from Mercedes' Lewis Hamilton and Valtteri Bottas, further underlining Ferrari's potential for the 2017 campaign.
The victory arrived exactly a year after Ferrari threw away a win to Mercedes having emerged as the stars of pre-season testing.
Vettel downplayed talk of the team's title hopes following the victory, but former Red Bull driver Webber expects the Scuderia to play a leading role in a 'phenomenal' title scrap with Mercedes.
"It is brilliant, good for the sport and for Ferrari," Webber told Speedcafe.com following Vettel's win.
"It is real, it wasn't a lucky win, they totally deserved the victory.
"They out-foxed Mercedes in every area apart from the start and qualifying but the race was all theirs – pace-wise, strategy-wise.
"Vettel was absolutely clinical and I think that between those two it is going to be a really phenomenal battle for the championship."
The former Red Bull driver also felt the race was a great way to usher in F1's new era, which has been structured around the creation of the fastest ever cars in the sport's history.
"I think having two different teams fight it out is always good to watch," he added.
"I think there is going to be some really good racing this year between those two."
The battle looks set to step up a notch next week's Chinese Grand Prix after Mercedes boss Toto Wolff claimed his team is planning an immediate response to Ferrari's victory.
"It's personality-building," said Wolff after being beaten by Ferrari.
"I think you just lose some and you win some.
"We have been very fortunate in the last three years that we won most of the races. And now it's about accepting that here Ferrari beat us.
"We will come back stronger. We didn't have great testing and we didn't have a great Sunday (in Australia), but we will leave no stone unturned in order to win more."