Ricciardo misses AGP start after electronics glitch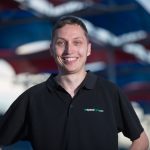 Daniel Ricciardo has joined the Australian Grand Prix two laps down after missing the start following an electrical issue on his way to the grid.
The Red Bull driver ground to halt on the Albert Park circuit after his RB13 found itself stuck in sixth gear.
Ricciardo climbed out of the cockpit while the car was returned to the garage.
Red Bull boss Christian Horner claimed an electrical sensor issue had caused the car to be stuck in gear.
The team frantically worked to reset the electronics on the car to clear the problem but were only able to send Ricciardo into the race two laps after the start.
The drama is the latest to befall the four-time grand winner at his home event which turned sour on Saturday when he crashed in qualifying without setting a time in Q3.
Ricciardo qualified 10th but damage incurred to the rear of the RB13 forced Red Bull to make a gearbox change resulting in a five-place grid drop.