Investigation underway after AGP crowd invasion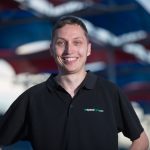 Australian Grand Prix organisers have begun an investigation into how spectators were able to infiltrate the circuit on the cool down lap after today's race.
Streams of spectators managed to find their way through barriers and onto the circuit at Turns 14, 15 and 16 while the cars made their way back to the pits after the chequered flag.
While television footage appears to show that spectators did not impede the cars, the Australian Grand Prix Corporation said the safety of fans is paramount at its events.
The Australian Grand Prix Corporation (AGPC) has confirmed to Speedcafe.com that an investigation into the situation is underway to ensure there isn't a repeat in the future.
"I am concerned because we have very, very strict processes that for 21 races have worked beautifully so something went amiss," AGPC chief executive Andrew Westacott told Speedcafe.com.
"We don't know what yet, but we have got an investigation happening with our people, including CAMS, who obviously look after the track from a race organisation point of view and a race control point of view.
"All the logs and everything else is going to be investigated.
"We have to make sure that spectator safety both from the track point of view and throughout the venue, and also the workers who will be loading up the freight tonight, is looked after.
"I don't think there was any malicious intent on behalf of the public."
On reflection Westacott believes a miscommunication occurred although a thorough examination of CCTV footage will determine the reason for the crowd breach.
"From what I am led to believe, there could have been a mistake made in the signals as to when people could exit onto the track, but that is being investigated, so I won't speculate on the outcome of that until I have all the facts," he added.
"But rest assured these things and the safety of everyone is paramount and we will be making sure that immediately in the debrief any learnings we can do are going to be implemented and we can work through it.
"We have CCTV, we have radio logs and other things so we can understand what happened.
"I am very, very pleased that one of our Australian Grand Prix Corporation staff was on hand to make sure that people were able to be held back when the final cars were coming passed."
The crowd invasion didn't go unnoticed by drivers with race winner Sebastian Vettel enjoying the ability to share the moment with the fans.
"It was quite mad in a positive way when I was coming back to the pits and the people were running on the track going wild with the Ferrari flags, you know it was unbelievable," said Vettel on the podium.