Ricciardo surprised by AGP qualifying crash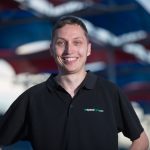 Daniel Ricciardo says he is unsure why his Red Bull snapped suddenly resulting in a crash during qualifying at the Australian Grand Prix.
The Australian found himself in the Turn 14 barriers when he lost the rear of RB13 during a flying lap in Q3 at Albert Park.
The rare misjudgement has severely damaged any hope of of securing a strong result at his home race with the  four-time grand prix winner down in 10th.
His grid position could be even worse if his team is forced to replace the gearbox on his car, which would incur a five-place grid penalty.
Reflecting on the crash, Ricciardo is perplexed by the moment with data suggesting the new wider Pirelli tyres hadn't encountered any issues.
"I just lost the rear, but it was a little bit weird, like I felt when I turned in the rear was a little bit light, but it kind of snapped a bit later," said Ricciardo.
"I didn't get the impression it was going to go, I tried to catch it but it was too late.
"I had a quick look now at the replay and the data and I mean I was pushing but I didn't actually enter to the corner any quicker than I did in my Q2 lap.
"I was pushing but I wasn't overdriving to an extent where I feel like I influenced it more than I should have.
"Just a tough one I think, you are pushing, we are still trying to get on top of the cars and all that, still a bit of learning to do. No excuse but nothing really stood out.
"I didn't have a problem basically, there was no puncture or anything strange like that, just lost the rear basically.
"I think because we have quite a bit more downforce on the cars so when they do go they seem to be a bit harder to bring back."
Red Bull appeared to slip further back from its rivals with Ricciardo's team-mate Max Verstappen 1.2s adrift of the pole-sitting Mercedes of Lewis Hamilton.
Ricciardo admits the Milton Keynes squad has plenty of work ahead to close the gap.
"Coming in here we thought if we are within half a second that is okay for where we are at the moment and we can build from that," he added.
"But we are obviously more than a second off and I think Max's lap was pretty tidy.
"I don't think he could have got much more out of that in Q3 so it is not like we are leaving a lot on the table from our point of view.
"It is a tough one for now, for sure Ferrari and Mercedes are quicker.
"Looking at the onboards the rears seem more planted, it just seems like they have nailed a bit more downforce at the moment so we still have obviously a bit of work to do ahead."
The Australian Grand Prix is scheduled too start on Sunday at 1600 local time.