Ricciardo: Red Bull has 'tricks up its sleeve' for AGP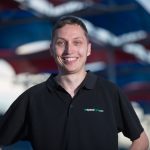 Daniel Ricciardo says Red Bull has 'some tricks up its sleeve' for the Australian Grand Prix with a raft of chassis and aerodynamic updates set to be deployed this weekend.
The Australian admits the Milton Keynes squad was unable to make the most of its RB13 in pre-season testing in Barcelona.
Following a solid a but unspectacular test program it was widely expected Red Bull would bring updates to bolster its pace at the Albert Park season opener.
Ricciardo says the car has undergone a series of changes since testing which have revolved around the chassis and aero package.
While the changes are unlikely to be visibly noticeable, the four-time grand prix winner believes the car will produce more downforce, which will improve cornering speeds.
Although excited by the prospect of an updated RB13, he is unsure if it will give him a car to challenge Mercedes and Ferrari for victory.
However, he also revealed that Renault still has plenty of work ahead to match the power units from Mercedes and Ferrari.
"Testing wasn't anything special for us I don't think. I don't believe we got the most out of what we had," Ricciardo told Speedcafe.com.
"We are coming here and we know we can do better than what we did in testing, so it is kind of hopeful that we can have a good weekend and maybe surprise a few people as well.
"There are some updates and the car will be a fair bit different.
"I don't know from the outside how much will be picked up on, from say fans, but there will be a few things. I am sure you will see, little bits here and little bits there that we didn't have in testing.
"We will have a bit more downforce this week for sure.
"There are some tricks up the sleeve.
"Will it put us in a fight for the win? We are not sure yet.
"We think we can definitely be quicker but I'm not sure if it will it give us that extra half a second or something.
"We don't know how big the game will be yet.
"I think we have started off okay (in terms of engine performance) but we are still not on Mercedes' level so that is our target.
"We can't expect to gain a chunk of horsepower overnight but I think last year we worked away at it well, and if we can make the same steps this year, then I think by the end of the year we can be."
While cautious regarding the results of the upgrades, Ricciardo believes there is a realistic opportunity to snare a maiden podium at his home race.
Such a result would be significant after a second place finish was taken away from him in 2014 following a breach of the rules.
"I definitely feel like I have a chance to get back on that podium that I lost a few years ago," he added.
"Nothing is guaranteed but there is certainly a chance that it can be redeemed.
"I would feel either way like it was a long time coming.
"I think it would just be nice to start the season on a podium and already be on that front foot from race one and set a little a statement.
"It would have a double sort of dose of satisfaction."
Ricciardo will deploy the updated RB13 for the first time in opening practice at midday local time.