Holdsworth Commodore to undergo off-site repairs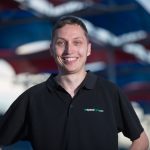 Lee Holdsworth's Preston Hire Commodore will return to the team's Melbourne workshop in the hope it can be repaired in time for Sunday's final Supercars heat at Albert Park.
The Team 18 Commodore suffered significant chassis damage after being struck by Nick Percat's Brad Jones Racing entry towards the end of the opening non-championship race.
Percat suffered a brake failure on the entry to Turn 1 and unfortunately collected the right rear corner of the innocent Holdsworth.
Preston Hire Racing boss Charlie Schwerkolt believes there is a chance the damage can be repaired by utilising the squad's jig at their new Mount Waverley workshop.
"Our goal is to get out, I doubt it will be tomorrow but Sunday would be a miraculous thing," Schwerkolt told Speedcafe.com.
"It is repairable chassis damage, it's not like Darwin which was again bad luck.
"The car is actually going to leave here this afternoon as soon as we possibly can to go back to our race shop. We have a jig there which is fantastic.
"Both rails are gone, boot cage, the whole parcel shelf so there is a lot of damage to the car.
"Lee is fine, which is the big thing, he can't believe his luck like us all, just can't believe it."
The incident came as a bitter blow for Holdsworth, who had powered from the back of the grid to 11th position before the crash.
Holdsworth, who was sidelined for three months following his crash at Darwin last year, was left to rue his misfortune but has been buoyed by the turn of pace from his Commodore.
"We have tried so hard to come back from last year's Darwin crash, and now we have had another one," Holdsworth told Speedcafe.com after receiving the all-clear from the medical centre.
"To come from 26th to 12th in eight laps was probably the most cars I have ever passed in that amount of laps and it was from pure car speed.
"I am feeling really positive about the car at the moment and the direction we've taken.
"We have only just touched the surface so there is plenty to explore and now that we have a direction we can hopefully stick to it, and not get lost.
"The car will be heading back tonight and there will be a couple of all-nighters I would say to get it back."