Hamilton dominates opening AGP practice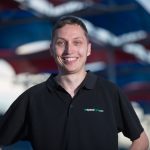 Lewis Hamilton produced an ominous display as Mercedes dominated the opening practice session of the season at the Australian Grand Prix.
The three-time world champion set the pace from the outset with a 1:25.535s before going on to shave a further 1.3s from the time during the 90 minute session.
Hamilton produced his session best 1:24.220s on ultra-soft tyres not long after the hour mark which stood for the remainder of the running.
His time was an impressive 5.505s faster than the effort he produced on softs to top opening practice last year.
The Brit's new team-mate Valtteri Bottas enjoyed a brief period at the top of the times before Hamilton blitzed his time by more than half a second.
Daniel Ricciardo produced encouraging pace in his revised Red Bull RB13 to finish the session in third 0.6s adrift of the pace.
The Australian, who set his best time on super-softs, also held top spot briefly in the session.
After revealing his Red Bull would have a raft of upgrades this weekend, the RB13 rolled out with a new front wing and other noticeable aerodynamic upgrades.
Max Verstappen was fourth in the sister car despite suffering a small gearbox glitch earlier in the session.
Kimi Raikkonen was fifth ahead of team-mate Sebastien Vettel as Ferrari elected to conduct less running on a dusty track compared to its rivals.
The top 10 was completed by Felipe Masa (Williams), Romain Grosjean (Haas F1), Nico Hulkenberg (Renault) and Sergio Perez (Force India).
Toro Rosso featured just outside the top 10 with Carlos Sainz 11th and Daniil Kvyat in 12th position.
Debutant Lance Stroll put his Williams in 124th ahead of Fernando Alonso, who was the fastest McLaren, albeit 2.8s shy of the pace.
Jolyon Palmer's session ended prematurely with a gearbox issue on his Renault, while Esteban Ocon (Force India) suffered brake problem earlier in the session.
Srtoffel Vandoorne was limited to running in the second half of practice due to a reliability concern on his McLaren that kept him in the garage for a sustained period.
The second 90 minute practice session is scheduled for 1600 local time.
Result: Formula 1 Australian Grand Prix Practice 1 
| Position | Driver | Team | Car | Time | ap | Laps |
| --- | --- | --- | --- | --- | --- | --- |
| 1 | Lewis Hamilton | Mercedes-AMG Petronas Motorsport | Mercedes | 1:24.220s | – | 22 |
| 2 | Valtteri Bottas | Mercedes-AMG Petronas Motorsport | Mercedes | 1:24.803s | 0.583s | 25 |
| 3 | Daniel Ricciardo | Red Bull Racing | Red Bull/Renault | 1:24.886s | 0.666s | 19 |
| 4 | Max Verstappen | Red Bull Racing | Red Bull/Renault | 1:25.246s | 1.026s | 19 |
| 5 | Kimi Raikkonen | Scuderia Ferrari | Ferrari | 1:25.372s | 1.152s | 16 |
| 6 | Sebastian Vettel | Scuderia Ferrari | Ferrari | 1:25.464s | 1.244s | 10 |
| 7 | Felipe Massa | Williams Martini Racing | Williams/Mercedes | 1:26.142s | 1.922s | 28 |
| 8 | Romain Grosjean | Haas F1 Team | Haas/Ferrari | 1:26.168s | 1.948s | 20 |
| 9 | Nico Hulkenberg | Renault Sport F1 Team | Renault | 1:26.183s | 1.963s | 15 |
| 10 | Sergio Perez | Sahara Force India F1 Team | Force India/Mercedes | 1:26.276s | 2.056s | 29 |
| 11 | Carlos Sainz | Scuderia Toro Rosso | Toro Rosso/Renault | 1:26.450s | 2.230s | 24 |
| 12 | Daniil Kvyat | Scuderia Toro Rosso | Toro Rosso/Renault | 1:26.514s | 2.294s | 25 |
| 13 | Lance Stroll | Williams Martini Racing | Williams/Mercedes | 1:26.734s | 2.514s | 29 |
| 14 | Fernando Alonso | McLaren Honda | McLaren/Honda | 1:27.116s | 2.896s | 18 |
| 15 | Marcus Ericsson | Sauber F1 Team | Sauber/Ferrari | 1:27.348s | 3.128s | 30 |
| 16 | Esteban Ocon | Sahara Force India F1 Team | Force India/Mercedes | 1:27.656s | 3.436s | 23 |
| 17 | Kevin Magnussen | Haas F1 Team | Haas/Ferrari | 1:27.667s | 3.447s | 20 |
| 18 | Pascal Wehrlein | Sauber F1 Team | Sauber/Ferrari | 1:28.539s | 4.319s | 22 |
| 19 | Jolyon Palmer | Renault Sport F1 Team | Renault | 1:28.585s | 4.365s | 6 |
| 20 | Stoffel Vandoorne | McLaren Honda | McLaren/Honda | 1:28.695s | 4.475s | 14 |