Lex Davison honoured at Australian Grand Prix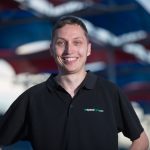 Four-time Australian Grand Prix winner Lex Davison has been honoured at Albert Park ahead of the 2017 Formula 1 season opener.
The late Australian motorsport icon has had an entrance road named after him at the Melbourne venue to recognise his contribution to motor racing.
Lex scored Australian Grand Prix wins in 1954 (Southport), 1957 (Caversham), 1958 (Bathurst) and 1961 (Mallala).
He also won Class A of 1960 Armstrong 500 and the Australian Drivers' Championship in 1957.
The newly named Lex Davison Drive was unveiled by his son Jon Davison alongside grandsons Alex, Will and James.
All three grandsons have continued the family's rich motorsport tradition with Alex competing in Porsche Carrera Cup, brother Will, driving for Tekno Autosports in Supercars and James racing in the Pirelli World Challenge.
"It is a great way to recognise my father," Jon Davison told Speedcafe.com.
"We are very proud and honoured as a family that such a significant international sporting event has commemorated my father's contribution."