JOHANSSON: F1 testing, IndyCar Round 1, Sebring
JAN TEGLER: It's been almost two months since the 2017 racing season got underway in earnest with the Daytona 24 Hours and our last blog. Since then there has been more sports car racing including last weekend's 12 Hours of Sebring, the IndyCar season opener, and in Formula 1, the focus has been on off-season testing.
The Grand Prix of St. Petersburg kicked things off for IndyCar a little over a week ago. The racing was generally good with surprisingly little contact and a lot of green flag running.
Scott Dixon was well positioned, running second to James Hinchcliffe when a full course caution was called for debris on track following contact between Tony Kanaan and Mikhail Aleshin on Lap 26. Scott, like others in the front running group, had remained on track after the window for pitting early opened on Lap 14.
A group at the back of the field including Simon Pagenaud and Sebastien Bourdais opted to pit early. When the yellow flag flew, this group gained a slew of positions as those who hadn't yet pitted came in for fuel. Scott had to fight hard to pass his way back up the order, ultimately finishing in 3rd position.
The caution was obviously frustrating but on the whole a 3rd place finish at St. Petersburg – a course that has not been kind to Scott in the past – is positive. What did you think of the race?
STEFAN JOHANSSON: Every time you have a closed-pit rule when there's a full course caution, you'll end up with the same problem. The race often falls into the lap of guys who started at the back or are running at the back as they have more freedom to roll the dice in a situation like that, and the guys up front are basically screwed. It's just part of the game in IndyCar or any other series using the same rules. On the whole though, it tends to even out over the course of a season.
It's frustrating at the time for the guys who get caught out, and especially if you know you have a winning car, which was definitely the case for Scott. His car was really fast all weekend, in every session and the race. None of the guys who were on the same strategy as him finished in the top ten positions. Interestingly, no one – not even the media – seemed to notice but I think he drove one of his best races ever. He had to save fuel for most of the race after the second caution and his first pit stop to get onto a different strategy. As usual, he managed to stretch his fuel for a lap or two compared to the other competitors and he was still passing cars along the way. He literally drove his way back up to 3rd, by going faster than the guys in front.
JT: Overall, St. Petersburg turned out well for the Honda teams. Seven of the top ten finishers were in Hondas. It looks as if the Honda engine/aero package has made some gains though there are still some tracks where it will be at a disadvantage.
SJ: Yes it went well although St. Pete hasn't been that bad for Honda in the past. It's interesting that people have noticed how well the Hondas did but Ganassi was pretty much the quickest Honda team overall through the weekend. That would lead you to conclude that had Honda had Penske or Ganassi as one of their teams in the last couple years there's a good chance they would have had a lot better results over that period.
The Honda package should work fairly well at Long Beach but at certain tracks the Hondas don't seem to have a chance to win. It's just the way the aero is at the moment. But the engine is by all accounts better than the Chevrolet.
The Ganassi guys think they've found a reasonably good balance between mechanical and aerodynamic grip that seems to work well on the street and road courses. But at places like Phoenix where you're basically flat through the entire lap there is not much that can be done, the drag versus downforce is what it is, and they are definitely at a disadvantage. On the other hand, the super speedways seems to give the Honda cars a slight advantage as we saw in Indianapolis last year for example.
JT: With St. Petersburg in the rear view mirror, Scott headed down to Sebring for last weekend's 12 Hours. The race was competitive in most of the classes – again with surprisingly little contact and few caution periods.
The Cadillac DPis and the teams that run them – Wayne Taylor Racing and Action Express – proved to be the class of the prototype field again just as they were at the Daytona 24. In GTLM, Ganassi's Ford GTs had a numeric advantage but finished behind the #3 Corvette.
Scott finished in 4th place in GTLM, driving with Ryan Briscoe and Richard Westbrook. Porsche looked very strong as well, particularly after night fell but a mistake in the pits put an end to the #911 challenge in the closing stages.
Meanwhile, Riley Team AMG scored the biggest win yet for the Mercedes AMG GT3 with their run to the front of the GTD class. Scuderia Corsa had a good race as well finishing 2nd just behind them.
What are your thoughts on the race?
SJ: Overall, I think it was a very good race. The new prototypes definitely look great on-track and they sound great. The Cadillacs were good and their teams are very good and definitely make a difference as well.
The Ganassi cars couldn't stay with the Corvette or the Porsche but I think that comes down to a little more than the change in temperature at night. It was plenty cold during practice earlier in the week and they didn't show their speed. Somehow they managed to find some extra speed towards the second half of the race and there was no way for the Ford's to catch the Corvette at the end.
With the Ferrari (Scuderia Corsa) we had a pretty decent race finishing 2nd. It looked like we could win it for a while but we didn't quite have the pace of the Mercedes there at the end either.
JT: As always, it's hard to pin down form in F1 following pre-season testing but the on-track action in Barcelona gave us an impression of the new-for-2017 cars' appearance and a few clues as to which teams may be improving and which may not. What are your thoughts on what we've seen so far?
SJ: Predictably, as we mentioned before the launch of the cars, they all look pretty much the same with minor variances here and there. That's just the way it is now because the regulations only allow teams to work within in a small window.
It's very interesting considering these are completely and quite different rules from before, and we have to assume that none of the teams had any chance to know what the others were doing. Yet again, all the cars look almost identical apart from some different solutions to the various aero philosophies different teams have applied. There are the T-wings and shark fins but those are little nuances, not exactly ground-breaking stuff and most of it has been done before in various ways over the years. That kind of development is to be expected if it's allowed within the rules.
When you look at these new cars and the new rules, you have to ask, why? Was it really necessary to have these new rules? The cost of creating these new cars is mind-boggling for every single team. I'm not sure what the exact reasoning was for these new rules to be put in place to begin with and I'm not so sure anyone else really does.
Was it because the racing was not exciting enough, did they think the old cars were too slow. Did they not like the look of the cars? Were they too easy to drive? Whatever the reason, I don't think these new rules have been particularly well thought out. They feel like another band aid solution to some knee jerk reaction based on a few minor issues rather than a big picture solution to the complete philosophy of what a modern F1 car should be.
Performance is always difficult to gauge from the early tests but everyone I've spoken to who has been in Barcelona seems to agree that Ferrari looks impressive regardless of how much fuel or what tires they're running. Apparently the car looks planted in most conditions. It would be great if they've caught up with the front runners, but I think Mercedes is still the standard despite some difficulties in getting up to speed in the testing.
As always, we won't know for sure until after Qualifying in Melbourne. But I have a feeling it could become a closer battle between the top three than we have seen in recent years.
JT: There have been a number of stories in recent weeks about Ross Brawn's efforts to 'fix' Formula One as Liberty Media's motorsport director. He's even suggested a non-championship round recently that would allow teams and the series to experiment with the racing format and approach.
Obviously there are sporting and technical suggestions which Brawn can make but unless I'm mistaken, he is not the FIA and it's the FIA that makes F1 rules. It almost seems as if some people imagine that Brawn can shape and manage the series on his own. Do you have a similar perception?
SJ: Well, the hope would be that he can bring some clarity and sense back to the way F1's rules are written. The way it is now, the engineers have taken over the show. The rulebook is so complicated that no one except the engineers are capable of understanding it. It's time to simplify everything and if anyone is capable of doing that it's Ross. So hopefully his influence will eventually show some positive results.
It would be nice if he could be the sole person responsible for shaping the rules and also to enforce them. He would obviously need a well-rounded team of people to support him but it would be a much better solution than this strategy group that currently exists. They don't seem capable on agreeing on anything of any importance.
It's a strange situation at the moment, typically it's the FIA that write the rules but now F1 has this democratic process which is the strategy group. The teams apparently have an equal number of votes to FOM and the FIA to determine the rules. But no one in F1 management or the FIA can read even the first five pages in the rulebook because it's so complicated that they just glaze over. They put it down and say, "yeah fine" and then just let them get on with it.
I have spoken to several very competent engineers and designers that have also had the opportunity to read the rulebook and they all agree, it's so complicated that most of them just give up.
That's what it's come to and things are just sort of spiraling in a vicious circle. When teams have to employ over 100 aerodynamicists to design and develop a car, you know something is seriously out of whack.
Ross is the perfect man to get a handle on this democratic process that's gradually crept into the system and I am sure he will put together the team of people he's been talking about that will create a sensible and coherent plan going forward that will make both the cars and racing more exciting and interesting to watch.
JT: In addition, last week Brawn suggested that F1 should have a group of experts examine ways to improve overtaking on-track. He mentioned a 'state-of-the-art CFD project' to study an aero concept where cars with high downforce would be capable of running close together.
This sounds needless, unrealistic and like a fantastic way to waste money and time. As you've said so often, diminishing downforce and emphasising mechanical grip is the simple, cost effective way to improve overtaking.
SJ: F1 has been through this over and over again but it's pretty obvious what they need to do. As a basic rule of thumb, if you have half the grip or more on the cars coming from aerodynamic downforce you're always going to have turbulence that makes overtaking more difficult. It's inevitable and I don't see how you can find a way to eliminate the wake behind the cars if you rely this much on downforce.
JT: Apparently F1 viewership dropped to a 12-year low in 2016 in the UK – F1's business and spiritual home. This was despite a popular British driver – Lewis Hamilton – battling for the championship.
SJ: I did see that story too. However, I don't think it's just F1 that is losing viewership. Most sports are struggling to hold on to the eyeballs. There is just so much competition out there for things to engage in, the battle for any sport is to figure out how to capture the younger generation.
In racing, the fans just seem to get older and the loyal followers F1 has had for years are gradually losing interest for different reasons. One main reason in my opinion is that it's just become too clinical and over regulated. It's complicated even for people like myself in the business who are passionate about it and live and breathe it every day. So I can't imagine what it must be like for the fans.
I am not qualified to comment on what exactly needs to be done to change that and bring not only the viewers we've lost but more importantly the new generation of viewers that is vital to the future of motor racing. But one thing is almost obvious and that is that we need to make the racing exciting and interesting again.
For me, I'd rather hear a lot more noise about the human drama of F1 – the drivers. They are the heroes people want to cheer for and should be highlighted as the gladiators they should be. If F1 isn't being followed in the UK, which is the heart of racing, you know there's something wrong.
JT: Speaking of Lewis Hamilton, he recently confirmed what you've been stressing for almost a year now. Following testing he said that being behind the new, higher downforce 2017 cars is much more challenging. The turbulence or 'wash' from the rear of the cars is worse than ever. Hamilton says passing will certainly be more difficult.
SJ: The aero package certainly doesn't seem to have solved any of the issues related to turbulence. I don't know how things will shake out but I'd be shocked if drivers' ability to pass is improved. I can't see how that's possible with these rules.
Anyone with even a basic understanding of how a racing car works could have told them this. Any engineer I have spoken to who's been around for a while says the same thing. There will be no way to overtake with these cars.
It makes you wonder who are the actual people who created these rules? I have not seen one individual name mention as the leader or responsible for this group. It's like a big grey entity that suddenly came up with these rules and everyone just seemed to agree to go with it.
JT: Stories have come out nearly every day during testing of McLaren-Honda's woes, particularly their difficulties with Honda's power unit. There may be some exaggeration but they do seem to be in a bit of a pickle. The relationship between McLaren and Honda seems strained and what I've heard from people knowledgeable about the team suggests that it's in a bit of disarray.
SJ: Yes, they obviously still have some problems to overcome with their engine and the situation in general is probably as challenging for them now as it was last year at this point, maybe more challenging. That's not a great place to be in but we'll see.
They definitely have some work to do. I don't know enough about the details to comment either way, but it's obvious they are way behind any targets they had set for the testing. It's a very bad situation to be in at this stage of the game, as any major changes are virtually impossible once you have decided on the architecture of the engine and the philosophy on how you're planning to develop it. It will no doubt be a very long and tough season for them.
JT: As the off season has progressed, I've noticed a number of drivers speaking out about various aspects of racing in the modern era. Their comments are very interesting and give insight to the behind-the-scenes grind of racing these days.
In the blog on his website, Benoit Treluyer says he's been revelling in being a part of the Andros Trophy. The ice-racing series is a fixture on the winter racing calendar in France and draws many well-known drivers. He says racing in the series was a "breath of fresh air" after having competed with the now defunct Audi LMP1 squad for several years.
Treluyer stressed that driving isn't always the major part of the job when racing with a top manufacturer like Audi. Many other tasks, from writing reports to briefings/debriefings, meetings, etc, consume a driver's time. He added that the style of racing a hybrid LMP1 car can be rather "metronomic" as well. In contrast, he found ice racing in the Andros Trophy freeing and fun.
You've been in that manufacturer environment with the biggest teams in the world. What are your thoughts on Benoit's comments?
SJ: He's absolutely right, there's no question that it can simply become a 'job'. The bigger the operation, the smaller the driving part of the effort can be. You want to be as professional as you can but yes, it can be mind-numbing sometimes, the amount of reports and briefings, and on and on. There are so many layers of engineers and departments within a manufacturer team nowadays. And when you work for a manufacturer there is typically a lot more development work involved as they make almost everything themselves, whereas when you drive for a private team it's more just dealing with the engineers on basic set up rather than development.
Both F1 and LMP1 is almost the same now. Everything is so thoroughly prepared and with more and more applications of engineering, the less important the driver becomes. That's why the only really fun and interesting races are generally when the weather plays havoc and there are unpredictable circumstances that neither the engineers nor the drivers can prepare for beforehand.
That's why when a lot of the drivers that come to America to do IndyCar or other series – it's such a breath of fresh air for them. It's very pure in comparison. The tracks are a lot better because they're old school, rough circuits which makes them much more interesting and challenging. That gives them character.
They're not all the same boiler plate modern-type circuits and each one of them have their own nuances that you need to figure out to get the last bit of speed out of them. The ideal line is not always the fast way around these places. That's where 'driving' comes into play in a completely different way, where a driver has to adapt and figure out what to do.
And most important of all, if you screw up, you'll get punished because there's not a half mile of run off area with smooth asphalt but instead either a barrier or a sand trap, which in both cases mean your race is generally over. Take a track like Sebring for example– if you repaved it, it would be the most boring track in the world but as it is, it's one of the best tracks in the world.
Everyone that goes to do Super Formula in Japan loves it for the same reason as IndyCar, because it's pure hardcore, really tough racing with very good cars on a variety of really great race tracks.
I agree 100 percent with Treluyer. I see exactly where he's coming from. You become like a journeyman when you drive these LMP1 or F1 cars because there's so much other stuff aside from the driving that plays a big role in how you get on. You have to fit in with a corporate culture and do things that take a huge amount of your time.
That said, some drivers love it and though it sounds funny to say, some of them can sometimes be better at that part of the job than driving, and seemingly it works because they stay employed for several years in many cases.
JT: Another aspect of the current racing landscape that is less than ideal was directly addressed by Nicolas Armindo recently. Armindo, best known for his success in racing GT cars, announced his retirement earlier this month with a frank comment.
"I've only lived for motorsport but I no longer want to fight against the system," he said.
Armindo's remark directly addressed the difficulty the Gold-rated driver has faced in finding a competitive ride due the FIA ratings system now in place and the Balance of Performance format now prevalent.
"There are too many Gold drivers that no longer have rides," he said. "Gold drivers are being asked to pay for a ride and Silvers are being paid. The system in place is discriminatory and arbitrary."
He further added, "How can you ask a driver not to go too fast early in the season so the manufacturer is not penalized by BoP?"
We've discussed the driver ratings system before and its drawbacks, and the BoP. What do you think of Armindo's remarks?
SJ: I agree, definitely. Every time you try to create artificial rules or regulations this is what happens.
And though the current ratings system would work in my favour if I wanted it to, especially being a Bronze driver now, it's a completely unfair system, completely unfair. Before the ratings system there never ever used to be a problem.
Teams that wanted to win would simply hire the best drivers they could afford to give them the best chance of winning. On the other hand, the teams that just wanted to be there to fill the grid and be part of it, they would take a paying and less fast driver and it always worked itself out. Now, it's completely unfair that good professional drivers – really good drivers – can't get a drive because of this ratings system.
Instead, teams now scour the earth to find a karting champion who's 16 years old and hasn't been graded yet, and Gold or Platinum drivers instead have to find money. The thing is that the Bronze or Silver drivers become the most important ones as the difference between all the Platinum or Gold drivers in the field may be 5-8 tenths per lap.
The difference between a really good Silver, or even more Bronze driver and a not so good one, can be several seconds. So they become by far the most important cog in the wheel to win. It's completely backwards, the whole system. They should just get rid of it. I've said that from the moment they came up with it. Let the driver market happen organically like it used to happen. There was never a problem before.
An important point in all of this is that almost every single race car today is too expensive to run. With all of the electronics they have, with all of the systems it takes twice, maybe three times the amount of people just to run a car now. Manpower doesn't come for free. The cars are much more expensive to manufacture, and the cost of spares are through the roof in comparison to what it used to be. What happens is that all the money a team can generate is now absorbed in running the team, hence there is very little left to pay a good driver.
The truth is that drivers today outside the top level of F1 or maybe NASCAR make less money than they did 20 years ago. In some cases you're lucky to even make any money at all as a professional driver. The system is really screwed up.
In sports cars, LMP3 is a great example of how a less expensive formula should work. It's a comparatively very affordable category with reasonably priced cars where you can run a full season for $500,000-$600,000.
And look what's happening. The LMP3 grids are full. You can't even get an entry. Next year there will be about 150 LMP3 cars sold around the world. That should tell you something. On the flipside, an LMP1 prototype budget is over $200 million per year in an effort to win Le Mans and that should tell you something else.
That's just as ludicrous as it is for an F1 team to spend half-a-billion dollars per year. It's crazy, and as a result we now have only two teams running LMP1 who are capable of taking the overall win at the Le Mans 24 hours and more than a handful of F1 teams running on fumes before the season's even started. Not a good situation.
Unfortunately, you can't put the genie back in the bottle. When you create new technology and knowledge, you can't just erase that. That means it's always difficult to control costs. People will always find another way to recover performance. But some simple reforms need to be made.
As an example, a one car IndyCar budget for a season equals just the brake budget for one of the top F1 teams!
But going back to the ratings system, another way to think of it is that everyone reaches their limit as a driver – the limit of how good they really are. That's gone now. There are guys who literally shouldn't even be on the grid in sports cars who are there because of this ratings system while pros can't get a job. Even in F1 you have half the grid there because the drivers can bring money. It's a mess.
JT: In the WEC, Toyota recently said that if there was any reduction in the scope of hybrid technology for LMP1 in the coming years, they would be unlikely to continue in the championship. LMP1 is declining and as we've discussed costs must be reduced for the WEC as a whole and the P1 class if it's to survive. Dialling back the massive cost of creating complex hybrid drive systems would help. But apparently the manufacturers aren't that interested in cost reduction if that means they can't use the series for development.
SJ: It's a repeating problem in several championships. They become slaves to the manufacturers and that affects every other part of a series. It's the same old double-edged sword. It's great to have the manufacturers because they spend money and promote the championships but simultaneously they make the racing so expensive it pushes out other competitors.
I've said this for a while now and I'll say it again. In my opinion the best thing they could do is scrap LMP1. There are only two teams now and who cares? They should do away with the prototypes altogether and instead un-restrict the GT cars and get rid of the BoP (Balance of Performance). That would give them 200-250 more horsepower immediately, even with their road car powerplants. The Ferrari has over 200 more horsepower as a street car than it does as a Le Mans car and it's far from the only GT car that has much more power than the racing version of the same car.
If you gave the GTs that kind of power and some wider tyres, maybe by two inches wider front and rear, and a little more aero, they would be doing 3:30s laps around Le Mans in no time. That's seems to be the sweet-spot where the ACO wants the speed to be.
That way you would have a whole field of really fast GT cars which effectively could be purchased as customer cars by any team – the same car as the factory teams use – and it would be like it used to be with the Porsche 956s for example. There used to be three factory cars and 25 privateers running 956s.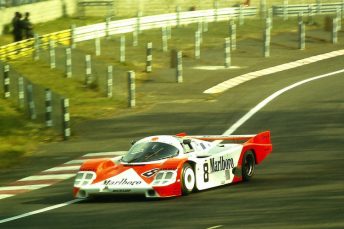 You would still have the factory teams that would be a bit faster than the customer teams but not much. Nothing like we have now where there are two teams that are more than 10 seconds a lap quicker than the next competitors. Every manufacturer would have to build a car that's homologated, like the Ford GT.
There would be a wait list for every road car version of the same car they're racing, just as it is now with the Ford. No BoP. Every manufacturer would have to build the best car they could to fit the rules and not slow down the rest of the cars to make the field even – may the best man win!
LMP1 may die a natural death anyway with expenses and other concerns for the current manufacturers at the moment. If the GTs were brought forward I think you'd have eight to ten manufacturers wanting to participate. And if they're GT cars, I think you attract a whole different and much larger fan base.