Winterbottom to trial leg protection system at AGP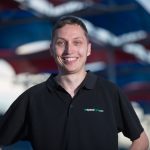 Mark Winterbottom will trial a new leg protection system on his Prodrive Racing Australia Falcon at the Australian Grand Prix non championship event this weekend.
Prodrive has confirmed to Speedcafe.com that the concept is based on the latest version of the leg protection tray developed and run by DJR Team Penske for the first time at the Clipsal 500.
DJR Team Penske has constructed a padded carbon fibre one-piece tub which extends from the driver's seat to the pedal box.
As previously reported, Prodrive is among a group of teams keen to deploy extra cockpit protection to reduce the risk of drivers suffering leg injuries in the event of violent impacts.
The teams has fitted the system to Winterbottom's car to evaluate before a planned introduction on all four of its entries in the Virgin Australia Supercars Championship.
The exact details of the Prodrive system are yet to be revealed.
Winterbottom is looking forward to testing the new components at Albert Park.
"It's more confined and feels a little bit different too after sitting in the car at the workshop," said Winterbottom.
"But obviously it's something that we need so it's good that we've decided to try it and hopefully we implement it in the series and it's a success."
Winterbottom will run the system for the first time during Thursday's 30 minute practice.