BJR reveals 'Supporting Equality' AGP livery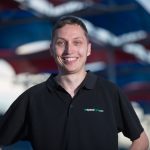 Brad Jones Racing's Nick Percat will carry a special 'Supporting Equality' one-off livery at this weekend's non championship Supercars round at the Formula 1 Australian Grand Prix.
The striking rainbow colour scheme displayed on the #8 Holden Commodore at Albert Park supports the equality of people, no matter their race, gender or sexual preference according to the team.
BJR says the 'Supporting Equality' livery doesn't represent a stance on any issue in particular, but equality in all its forms, diversity and equal opportunities for all.
The livery follows a similar 'stand up for equality' campaign recently conducted by Holden.
"The Grand Prix attracts a huge fan base from across the globe," said team boss Brad Jones.
"It's an opportunity for BJR and Holden to celebrate motorsport and show that anyone can get involved and enjoy the sport.
"I felt like Clipsal was a successful start to Nick's 2017 campaign.
"I'm hoping Nick will continue his fast form at the Grand Prix.
"We had a car that is more than capable of running inside the top 10 so I'm looking forward to a competitive weekend at the Grand Prix."
The special livery replaces a one-off Clipsal scheme on the #8 Commodore with the team yet to confirm  primary sponsor for the car.
It will be displayed for the first time when the Supercars grid takes part in a 30 minute practice session on Thursday at 1250 local time.