Logano clinches NASCAR pole at Phoenix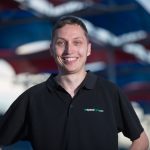 Team Penske's Joey Logano has taken pole for this weekend's Monster Energy NASCAR Cup Series event at Phoenix Raceway in Arizona.
The result arrives less than a week after being involved in a controversial punch-up with Kyle Busch at Las Vegas.
Logano drove the Team Penske #22 Ford to a best lap of 26.216 seconds at an average speed of 137.321mph (219.713kph) on the one-mile desert track.
The pole was Logano's first of the season, his first at the Arizona oval and the 18th of his Monster Energy Series career, after clinching three in 2016.
The Penske driver is the most recent winner at Phoenix having taken the chequered flag last November.
"I didn't think it was going to be quite good enough, but I pushed as hard as I could," Logano told Fox Sports after his fast final lap.
"Sometimes you overdrive it a little bit and you still make speed, so proud of this team and proud of this Ford front row. That's a pretty special deal, so excited for the race now."
It was a case of having the last laugh for Logano with his rival Busch only managing the ninth fastest lap of 26.485 (135.962mph).
Earlier in the day Logano and Busch were pulled before NASCAR officials to discuss their Las Vegas altercation and again escaped without penalty.
Ryan Blaney will share the front row for Sunday's Camping World 500 the second event in the three-race NASCAR Goes West swing.
He powered the Wood Brothers Racing #21 Ford to the second-fastest lap of the final qualifying session with a 26.301-second lap (136.877 mph).
Dale Earnhardt Jr. will start third in the Hendrick Motorsports #88 Chevrolet after a lap of 26.319 ( (136.783 mph).
Chip Ganassi Racing team-mates Kyle Larson (26.344 seconds, 136.654 mph) and Jamie McMurray (26.412 seconds 136.302 mph) completed the top five, respectively.
Kevin Harvick, the defending race winner with eight Phoenix victories in his career, was just 23rd-fastest in the Stewart-Haas Racing #4 Ford.
Martin Truex Jr., last week's winner at Las Vegas, was 16th-fastest in the Furniture Row Racing #78 Toyota.
Both drivers were unable to make the 12-driver cut for the final round of qualifying.
A pair of practice sessions are scheduled for the Monster Energy NASCAR Cup Series tomorrow, the final prep for Sunday's 312-mile main event which will be shown in Australia from 5am EDST on Foxsports.
| Position | # | Driver | Manufacturer | Time | Gap | Mph |
| --- | --- | --- | --- | --- | --- | --- |
| 1 | 22 | Joey Logano | Ford | 26.216s | | 137.321 |
| 2 | 21 | Ryan Blaney | Ford | 26.301s | 0.085 | 136.877 |
| 3 | 88 | Dale Earnhardt Jr. | Chevrolet | 26.319s | 0.103 | 136.783 |
| 4 | 42 | Kyle Larson | Chevrolet | 26.344s | 0.128 | 136.654 |
| 5 | 1 | Jamie McMurray | Chevrolet | 26.412s | 0.196 | 136.302 |
| 6 | 2 | Brad Keselowski | Ford | 26.433s | 0.217 | 136.193 |
| 7 | 24 | Chase Elliott | Chevrolet | 26.441s | 0.225 | 136.152 |
| 8 | 77 | Erik Jones | Toyota | 26.444s | 0.228 | 136.137 |
| 9 | 18 | Kyle Busch | Toyota | 26.485s | 0.269 | 135.926 |
| 10 | 5 | Kasey Kahne | Chevrolet | 26.498s | 0.282 | 135.859 |
| 11 | 41 | Kurt Busch | Ford | 26.502s | 0.286 | 135.839 |
| 12 | 20 | Matt Kenseth | Toyota | 26.530s | 0.314 | 135.695 |
| 13 | 14 | Clint Bowyer | Ford | 26.523s | 0.307 | 135.731 |
| 14 | 48 | Jimmie Johnson | Chevrolet | 26.544s | 0.328 | 135.624 |
| 15 | 13 | Ty Dillon | Chevrolet | 26.548s | 0.332 | 135.603 |
| 16 | 78 | Martin Truex Jr. | Toyota | 26.562s | 0.346 | 135.532 |
| 17 | 3 | Austin Dillon | Chevrolet | 26.587s | 0.371 | 135.405 |
| 18 | 27 | Paul Menard | Chevrolet | 26.598s | 0.382 | 135.349 |
| 19 | 11 | Denny Hamlin | Toyota | 26.634s | 0.418 | 135.166 |
| 20 | 47 | A.J. Allmendinger | Chevrolet | 26.663s | 0.447 | 135.019 |
| 21 | 17 | Ricky Stenhouse Jr. | Ford | 26.672s | 0.456 | 134.973 |
| 22 | 31 | Ryan Newman | Chevrolet | 26.702s | 0.486 | 134.821 |
| 23 | 4 | Kevin Harvick | Ford | 26.772s | 0.556 | 134.469 |
| 24 | 6 | Trevor Bayne | Ford | 26.787s | 0.571 | 134.394 |
| 25 | 95 | Michael McDowell | Chevrolet | 26.888s | 0.672 | 133.889 |
| 26 | 10 | Danica Patrick | Ford | 26.908s | 0.692 | 133.789 |
| 27 | 19 | Daniel Suarez | Toyota | 26.913s | 0.697 | 133.764 |
| 28 | 43 | Aric Almirola | Ford | 26.973s | 0.757 | 133.467 |
| 29 | 34 | Landon Cassill | Ford | 27.005s | 0.789 | 133.309 |
| 30 | 32 | Matt DiBenedetto | Ford | 27.028s | 0.812 | 133.195 |
| 31 | 83 | Lajoie Corey | Toyota | 27.055s | 0.839 | 133.062 |
| 32 | 72 | Cole Whitt | Chevrolet | 27.061s | 0.845 | 133.033 |
| 33 | 37 | Chris Buescher | Chevrolet | 27.065s | 0.849 | 133.013 |
| 34 | 38 | David Ragan | Ford | 27.081s | 0.865 | 132.935 |
| 35 | 15 | Reed Sorenson | Chevrolet | 27.262s | 1.046 | 132.052 |
| 36 | 23 | Gray Gaulding | Toyota | 27.379s | 1.163 | 131.488 |
| 37 | 55 | Derrike Cope | Chevrolet | 27.860s | 1.644 | 129.218 |
| 38 | 33 | Jeffrey Earnhardt | Chevrolet | 28.118s | 1.902 | 128.032 |
| 39 | 51 | Timmy Hill | Chevrolet | 28.437s | 2.221 | 126.596 |