LDM seat attracts interest from home and abroad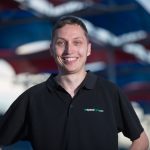 Lucas Dumbrell Motorsport is continuing to evaluate options to fill its #3 Commodore with the drive attracting interest from national and international drivers.
The Melbourne team is yet to confirm the identity of its second driver for the remainder of the Supercars season, which continues with a non-championship round at the Formula 1 Australian Grand Prix next week.
The team had originally announced Matt Chahda would take the seat before CAMS rejected the Albury driver's application for a superlicense last month.
Former Supercars full-timer Taz Douglas received a last minute call to drive the car at the season opening Clipsal 500 and remains in contention for the drive at Albert Park, having offered his services to the squad.
Team boss Lucas Dumbrell has received several inquiries about the vacant seat with two overseas drivers, who have competed in major international series, among the interested parties.
Dumbrell admits Douglas would be an ideal candidate for the drive, although the Melbourne driver has limited commercial backing.
The team will have until next Wednesday evening to name its second driver for the Albert Park round.
"We are just working through it at the moment, we haven't locked anything in," Dumbrell told Speedcafe.com.
"Taz has been kind enough to offer his services. He is happy to help me whenever I need a hand.
"Driving a Supercar is a pretty unique thing and he doesn't take it for granted.
"I honestly don't know if he will drive next weekend. I'm working on a plan and I have meetings today which might mean Taz does drive.
"Ideally it would be good for Taz do the rest of the year, but he doesn't have much commercial backing.
"There were some guys that helped at Adelaide but they are not an every round kind of thing.
"Taz did pretty good seeing as he done very little driving coming into the round.
"I've got some options. There have been some overseas guys that have inquired.
"Every deal is only talk until something is done."
While plans for the #3 Commodore are yet-to-be resolved, Dumbrell has heaped praise on his new recruit Alex Rullo in the sister #62 entry.
The 16-year-old made solid progress throughout his debut weekend in the category, which resulted in finishes in the two 250km heats in Adelaide.
"I think young Alex has done a great job," Dumbrell added.
"The big thing for Alex was he started the weekend three seconds off (the pace) but in both races he was only 1.4s of van Gisbergen's time, which is pretty good considering he is just 16-years-old."