De Silvestro boosted after positive Winton test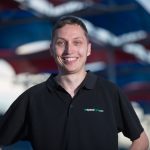 Simona de Silvestro is confident her understanding of the Nissan Altima Supercar is growing following a positive test at Winton today.
The Swiss driver jumped behind the wheel of the #78 Team Harvey Norman Altima for the second of her three permitted rookie day tests.
De Silvestro logged approximately 70 laps at the rural Victoria circuit where she worked on various set-up changes while adjusting to running on worn rubber.
A portion of the afternoon session was spent working on practice starts and pit-stop practice.
The day also offered another valuable opportunity to build the relationship with Nissan Motorsport engineer Blake Smith.
"We have just been trying a few different things in the car," said de Silvestro.
"It will give us more idea when we go to races. If something is missing we can draw back from what we're learning today.
"Hopefully we have a bigger picture and bigger understanding of how the car is.
"The more time you spend with the engineer the better that relationship becomes.
"He is starting to understand what I need in the car and the relationship is developing."
De Silvestro admitted the tyre restrictions for use in testing has been a shock to the system, providing an added challenge as she continues to adjust to the category.
"It is weird. I have never been in a series where you just don't have enough tyres," she added.
"Everywhere is restricted but it is even more restricted here. It makes it quite hard actually.
"You have tyre deg and you want to learn what the car is doing and it is a bit misleading, but it is the same for everybody."
De Silvestro will continue her rookie Supercars season at next week's non-championship round, which supports the Formula 1 Australian Grand Prix.