Council requests changes to Newcastle street circuit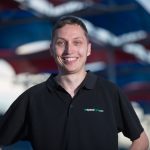 Newcastle City Council is set to file a request to state government and Supercars for significant changes to be made to the circuit which will host the Coates Hire Newcastle 500 season finale.
According to a Newcastle Herald report, the council is seeking a last ditch effort for the circuit's planned route to utilise the Shortland Esplanade, instead of running through the city's historic East End.
The Herald report claims an alternative route was rejected because the council would not foot the $2 Million dollar cost to relocate.
Although at meeting on Tuesday councillors are hopeful this new proposal would see the costs shared between the council, Destination NSW and Supercars.
Supercars issued a the final draft of the street circuit's layout for the November 24-26 event, which included a revision from its original plan to run through Pacific Park.
However, the decision to run through the East End has sparked unrest from local residents which has escalated into clashes between protestors and supporters of the event.
Supercars has responded to the latest development by confirming to Speedcafe.com that the race will go ahead as planned on the previously agreed layout.
The statement stressed engineering and safety concerns would prevent utilising the Shortland Esplanade.
"Supercars Australia welcomes Newcastle City Council's decision to bring forward its scheduled maintenance works to deliver with the inaugural Newcastle 500 in November," read a statement issued to Speedcafe.com.
"The comprehensive upgrades will be conducted in conjunction with the Newcastle 500 civil works program by advancing key projects and bringing significant benefits to the entire Newcastle community.
"Council's commitment means the event will proceed in 2017 on the agreed circuit, delivering the City's largest event and $57 million in projected economic benefit over the next five years.
"There are, however, serious engineering and safety concerns with the Shortland Esplanade layout.
"These are based on previous advice citing engineering concerns, insufficient timing and track safety. On this basis the Shortland Esplanade configuration may not be an option in future.
"This decision has been taken after consultation with Newcastle Council engineers and officers undertaken prior to last night's meeting.
"We will continue to work with Newcastle Council to ensure the 2017 Newcastle 500 is a great success for the region."