Toby Price targets Finke Desert Race return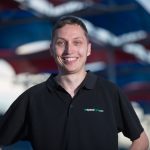 Toby Price is aiming to make his competitive motorcycle return at the Finke Desert Race as his recovery from a nasty Dakar Rally crash continues.
The 2016 Dakar Rally winner suffered a badly broken left leg during the famous South American event in January, which has sidelined him from motorsport for nine weeks.
Price broke his left femur in four places following a crash on stage four of the event that saw the New South Welshman undergo immediate surgery in a Bolivian hospital.
The factory KTM rider has embarked upon a rigorous recovery program since returning to Australia in the second week of January.
Now able to walk unaided, the 29-year-old made a highly impressive return to the track at the Clipsal 500 two weeks ago in the Stadium Super Trucks series, where he scored a podium in Race 2.
Although happy at the speed of his comeback, he admits a competitive motorcycle return is a long way off, with the Finke Desert Race, held in Alice Springs from June 6-8, realistically his first opportunity.
"I broke my femur in four places so to be back on my feet in nine weeks is great," Price told Speedcafe.com.
"It is 100 percent fine to be doing (Super Trucks) but we do need it (the leg) to be right before we get back on the bike.
"I'm looking to get back on the bike around May 1 to be ready for the Finke Desert Race.
"I will be pumped If I can get back for then.
"Everyday I'm doing work in the gym and a bit of physiotherapy. I'm doing pretty much anything I can.
"I'm doing mountain biking and cycling. It is good to get some decent training in.
"We will be 100 percent (ready) soon."
In the aftermath of his crash Price revealed he suffered seizures which at the time was thought to be the result of a blood clot.
Cleared by medical staff, his only worry now is an issue with his left knee, which remains a mystery following MRI and CT scans.
"I think there was a little bit of concern from the doctors," he said.
"It was mainly due to the operation and losing a lot of blood as I had two blood transfusions. They initially thought it was a blood clot but they couldn't find anything like that.
"I have had MRI and CT scans and the knee looks perfectly fine but it feels like it is going to give way when I put pressure on it. As long as I take my steps carefully everything is fine."
Price says the support of KTM and his fans has been crucial following a rough start to 2017.
"I'm very lucky to have those guys at KTM behind me giving me support," he said.
"It takes the weight off my shoulders.
"I feel bad for all the work they put in and for me not delivering the results I want to give them.
"I feel like I'm back and everyone has been amazing to help me get back."
After enjoying success in the Stadium Super Trucks, Price is eager to add more car races to his schedule to aid the recovery.
"If anything gets thrown my way and I have a weekend off then I will have a go at anything," he added.
"I will grab anything in both hands."