Honda, Chevrolet sign multi-year IndyCar deals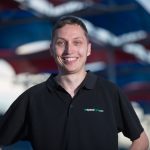 Engine manufacturers Chevrolet and Honda have signed multi-year contract extensions to supply engines for the Verizon IndyCar Series.
The announcement follows those earlier this year for chassis maker Dallara and tyre supplier Firestone who inked multi-year extensions, meaning all four major manufacturers have committed to the sport.
"This is a unique moment in the recent history of the Verizon IndyCar Series," said Jay Frye, IndyCar president of competition and operations.
"To have all of our major manufacturers locked in with us for the foreseeable future points to the fact that they all have bought into the vision for the Verizon IndyCar Series.
"It's another sign of the positive momentum we continue to build as we grow this sport into the next decade."
The alignment of all four manufacturers for multiple years is a key component of Indycar's five-year plan for the Verizon IndyCar Series that Frye unveiled in January.
Under the plan, aerodynamic regulations were frozen this season for the kits produced by Chevrolet and Honda in preparation for a universal aero kit to be used by all cars in 2018.
Confirming the two engine manufacturers for the future also lays the groundwork for attracting additional original equipment manufacturers (OEMs) to be the next to compete in the Verizon IndyCar Series.
"We have worked hard to harness the power of the paddock so we are all pulling together, and this is evidence of that," Frye said.
"The fact both Honda and Chevrolet are encouraging IndyCar to attract additional OEMs to compete is a sure sign that we are on the same page."
IndyCar debuted initial renderings of the 2018 car look in January at the North American International Auto Show in Detroit.
In addition to being more aesthetically pleasing to the eye, the car will have enhanced safety through the reduction of aero parts on the top of the car.
Additional downforce will be created from underneath the car and less drag off the back of the car, creating even better on-track competition.
More details about the car and its look will be unveiled in coming weeks, with the goal of having it ready to test on track in coming months.