OBITUARY: John Surtees 1934-2017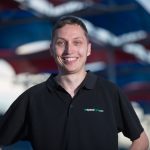 John Surtees was one of motor racing's true greats.
The softly spoken Brit will forever be remembered as a motorsport legend after achieving the unrivalled feat of winning world championships on both two wheels and four.
Surtees, who won seven world motorcycles titles and the 1964 F1 world championship, died peacefully aged 83 from a respiratory illness at a London hospital on Friday.
Surviving the sport's most brutal period, this staggering achievement looks set to stand the test of time, thus proving how versatile a racer Surtees was.
An extremely popular figure in the motorsport community, Surtees remained humble regarding his achievements.
"I don't really think about being the only man to win on two wheels and four," Surtees told this author in a lengthy interview in 2010.
"It's all in the past. I get up in the morning and think about the problems we have got to deal with today."
It was the clarity of which he recalled moments of his career to the minutest detail that made him one of the most rewarding to interview.
This was never portrayed more when reliving the key moments of his career, sparked by his father who was a motorcycle dispatch rider during World War Two.
It was at a meeting at Trent Park in London where Surtees made his auspicious motor racing debut at the tender age of 14.
Surtees' father was due to take part in a sidecar speed trial but his passenger failed to appear, so John Jr. stepped into the breach.
The pair won the event but were immediately disqualified on the grounds that John Jr was under age.
His first motorcycle race at Brands Hatch in 1950 didn't go according to plan but luckily for him it proved to be one of those rare slip ups.
"For a moment I took the lead, but the only problem was when I took the lead I wasn't with my bike," he said.
"It had started raining and at the bottom of Paddock Hill bend I over did it. The bike went one way and I went the other."
Remarkably Surtees would go on to record 38 GP race wins from 51 races, winning four 500cc world titles in 1956, 1958, 1959 and 1960, while claiming the 350cc crown from 1958-1960.
During that period he also won six Isle of Man TTs becoming the first rider to win three in a row.
"The Isle of Man requires a different mentality of racing," he said.
"It requires rhythm. The important thing is to be consistent and it is not a place to treat with disrespect.
"I didn't find a difficulty with that. The tension all came in the lead up to the event and when I won it, all I did was do what I set out to do. It was a bit of an anti-climax."
A contract dispute with MV Agusta saw Surtees switch his focus to cars, and during 1960 he notched up his seventh world championship on two wheels, while also driving for Lotus in F1.
He quickly ruffled feathers in the F1 paddock with the ease of his transition to four wheels, attracting the attention of Enzo Ferrari.
A maiden F1 victory arrived during his first season with the Scuderia at the 1963 German Grand Prix just a year before claiming the world championship, which included an emotional victory at Monza.
"Luckily I had cemented a place with the Italians and they accepted me," he added.
"When I won at Monza the crowd was so great I had to sit in my garage for three hours until it was safe to go out. It was one of the most important races of my career.
"Looking back on winning the world title that year though, I feel frustrated because we could have done so much more.
"We made it so hard for ourselves and we had to battle against adversity but a lot of that came from within the team."
Ultimately Surtees' time at Ferrari ended in a messy divorce following a series of disputes with team manager Eugenio Dragoni.
He quit the team immediately after being dropped from the 1966 Le Mans 24 hour race line up.
"I have fond memories of my time there and the people but when I look back at my time at Ferrari, we probably jointly lost three world championships. It ended in divorce really," he recalled.
Surtees was always quick to recognise talent on the track too, labelling the late three-time world champion Sir Jack Brabham as his most revered rival.
The pair were involved in several close battles including the 1966 German Grand Prix at the infamous Nurburgring's Nordschleife.
Heavy rain made track conditions treacherous but it failed to quell the fierce Brabham and Surtees combat.
The race turned into a duel between the Aussie and the Brit before a clutch failure for Surtees guaranteed the victory for Brabham.
The duo were also involved in one of F1's closest ever finishes in the 1967 Italian Grand Prix at Monza while racing for Honda.
"There are racers and then there are drivers," said Surtees.
"Jack Brabham was one of the toughest and he was totally unpredictable.
"He would have a go anywhere and if it meant he would use half the inroad he would use it.
"He would try anything, nothing unfairly I might add.
"Jack was an aggressive racer and he never gave up on anything. You always had to keep an eye on him."
During the 12 years he raced in the category he won six races from 111 starts.
After retiring from the sport in 1972, he set up his Team Surtees F1 squad which ran until budget constraints forced its closure in 1978.
Surtees did however hand several Australians a chance to shine.
Alan Jones, who went on to take the 1980 F1 world title, touring car legend Larry Perkins, Le Mans 24 Hour winner Vern Schuppan and current Supercars race director Tim Schenken, all got behind the wheel of a Surtees designed and built F1 car.
He kept in close contact in motor racing circles and remerged on the scene as part of Team GB's A1GP effort in 2005.
Like any father he held particular interest in his children's lives and was never too far from his son Henry as he progressed through the junior formulas.
Henry's tragic death following a freak crash during an FIA Formula 2 race at Brands Hatch in 2009 provided an emotional body blow for John.
While his loss was felt to the day he passed, Surtees was never one to dwell and preserved with his pursuit in helping young drivers through the ranks.
Following the death of his son he played an instrumental role in setting up the Henry Surtees Foundation, which has raised more than $200,000 for local air ambulances through several charity events.
Surtees always had a keen eye for developing future talent and became an ambassador for the not-for-profit Racing Steps Foundation.
The foundation raises money for burgeoning talent coming through the ranks.
He remained active in the motorsport scene right up to his death, driving iconic machinery at the Goodwood Festival of Speed and Revival events.
Although awarded a CBE, Commander of the Most Excellent Order of the British Empire, in 2016 he sadly leaves without the knighthood he so richly deserved.
His legacy will also live on through the Buckmore Park Kart circuit he purchased in 2015.
The Kent track played a key role in the development of Formula 1 world champions Lewis Hamilton and Jenson Button and remains a vital proving ground for the sport's future stars.
Speedcafe.com extends its condolences to the Surtees family.