Ricciardo: Red Bull no match for Ferrari, Mercedes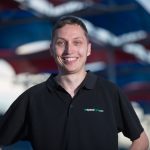 Daniel Ricciardo admits Red Bull has work to do to match Mercedes and Ferrari's pace following a disappointing end to his pre-season test program in Barcelona.
The Australian was hoping to close the gap to the front runners following an encouraging display on the opening day of the final pre-season test.
However, the Milton Keynes squad lost their way with set up leaving the team sixth on the time sheets.
His best effort on soft tyres was 1.8s shy of the ultra-soft shod Ferrari of Sebastian Vettel.
The four-time grand prix winner remains confident but is aware the RB13 is not in the same league as Mercedes and Ferrari currently.
"We came a fair way on day three for me and day four today we didn't get that extra step forwards," said Ricciardo.
"The progress was good but today we got a little bit confused with some set-up things.
"Hopefully we have some answers tonight. We need one more day to really understand the car better.
"We certainly haven't showed Ferrari's pace yet, so if you put some markers down tonight, you would say Ferrari is the closest challenger (to Mercedes).
"Ferrari is quick – they have been quick all test. They've showed that on long runs as well. I don't think we were quick today. We will have some answers for that.
"At the moment Ferrari look pretty close to Mercedes' pace. Our true pace is closer but we're not quite on their level. We can get there, but we're not there yet.
"We've got it somewhere, but we still need to find it."
Team-mate Max Verstappen will take over the car for the final day of the test.
The Dutchman suffered an engine problem earlier this week, although Ricciardo believes the issues will be resolved before the Australian Grand Prix.
"Max had some issues yesterday but I'm confident that it will get better once we're in Melbourne," he added.
"We will see a little bit from both sides: the power unit and the car will have some small new parts (for Australia)."