Baskerville Raceway undergoes facility revamp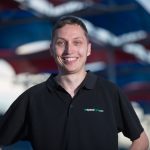 Grassroots motorsport in Tasmania has received a boost following the completion of raft of upgrades to the historic Baskerville Raceway.
The 2.01km circuit, situated north of Hobart, has undergone a facelift highlighted by a complete resurfacing of the track at a cost of $600,000.
This is the latest stage of a four year project undertaken by the Baskerville Foundation, which has been raising funds to rejuvenate the club racing venue that has hosted motor races since 1958.
The foundation has aimed to raise $1 Million dollars with $400,000 allocated to improving circuit infrastructure.
Alongside the resurfacing, the track's control tower has received a $100,000 makeover, while further work has been carried out to improve electrics, drainage and access.
A key venue for grassroots motorsport in the area, circuit owners MotorSports Tas believes the revamp is crucial for the future of the sport in Tasmania.
It's highest profile event is the Baskerville Historics meeting held in September.
"Baskerville is critical for the for the future of the sport and bring young people through," MotorSports Tas and Baskerville Foundation chairman Peter Killick told Speedcafe.com.
"I'm not sure if it will attract more events but it will drag out more competitors.
"People have said that it is too rough to race particularly the motorcycle guys. It is going to improve numbers and will rekindle interest in the events at the circuits.
"We have done a fair bit the last four years.
"It is a bit surreal when I look back on it. It is quite satisfying to see it now.
"I'm hoping to have a bumper historics event this year in September that pays the money back to the foundation so we can continue to raise money for more improvements to Baskerville."
Buoyed by the circuit's transformation, Killick says there are no plans to see the circuit evolve to host events outside of club racing.
"We would like to do a bit more with motorkhanas but the circuit will never get extended," he added.
"To be honest it would ruin it if we did and it would turn it into something it is not. It is known for what it is and it shouldn't change.
"All we want to do is improve the amenities."
The new surface will be tested for the first time when the circuit hosts the second round of Tasmania Circuit Racing Series from March 18-19.