Australian F3 names new tyre supplier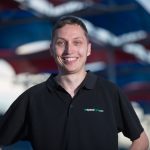 The Australian Formula 3 Premier Series has secured a new control tyre supplier for the 2017 season.
The newly reformed series has inked a deal with Hankook, who will supply competitors with rubber during the six round series.
Hankook will replace Kumho, who had previously held a contract with Australian F3.
"The Hankook tyre to be used by F3 is the same size and compound as the current F4 tyre, and Gary Harrison from Gary's Motorsport Tyres is confident that there will be a performance gain resulting in even quicker lap times," said Formula 3 Management spokesperson Mike Drewer.
As previously reported, the series' new guise will accommodate older F3 chassis and other open-wheelers including Formula 1000, Formula Ford 2000, Formula Renault, Toyota Racing Series, Formula BMW, and similar vehicles.
Australian F3 Premier Series 2017 Calendar
Rd 1 Winton Raceway (VIC) The F3 Rose City Trophy April 13-16
Rd 2 Morgan Park (QLD) May 19-21
Rd 3 Mallala (SA) The F3 Master of Mallala Cup June 9-11
Rd 4 Sydney Motorsport Park (NSW) July 1-2
Rd 5 Queensland Raceway (QLD) The F3 City of Ipswich Super Prix' September 15-17
Rd 6 Wakefield Park (NSW) The F3 City of Goulburn Trophy October 20-22