Ricciardo: New Red Bull beginning to come alive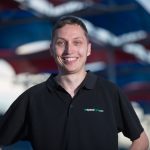 Daniel Ricciardo feels Red Bull is beginning to close the gap to Mercedes and Ferrari following the best showing yet from the new RB13 in pre-season testing.
The Australian ended the first day of the final Barcelona pre-season test in second just 0.174s shy of the pace-setting Williams of Felipe Massa.
Ricciardo posted a personal best 1:19.900s on ultra-soft tyres compared to Massa, who utilised the super-softs.
Having threatened the top of the leaderboard for the first time in testing, the four-time grand prix winner believes the RB13 is starting to show its true colours.
"Generally we're happy with what we got this morning in terms of where we were last week," said Ricciardo.
"I feel like the car is starting to come alive more.
"It's feeling better and better each day. The feeling is getting better and I feel the car is starting to evolve a bit, so that is nice.
"I'm not sure we are quite on Mercedes or Ferrari level yet but we're getting there."
Ricciardo has also responded to claims that Red Bull has been sandbagging during testing.
The 27-year-old says the Milton Keynes squad is not hiding its true speed, but he does expect all the teams to extract more pace from their cars.
"At the moment there's no big secret or anything. We're not sort of holding two seconds in our pocket," he added.
"But we definitely feel we still can get more out of the car – but I think probably everyone can.
"Hopefully not Williams, hopefully that was their best today.
"But, I think, you know, Ferrari and Mercedes obviously can still get more out of theirs."