Vidau claims Sandown FFord round win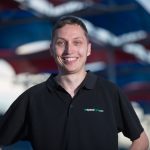 Max Vidau claimed the opening round of the Australian Formula Ford Series at Sandown.
The 15-year-old South Australian kicked off his season with two second place finishes, before ending his weekend with a victory in the final heat at the Melbourne circuit.
A mammoth field of 31 cars took part in the meeting which also doubled up as the the opening round of the Victorian Formula Ford Series.
Vidau followed Jayden Ojeda home in the opening two heats which saw him finish level on points with Ojeda, who finished tied fourth in last year's series.
Virtue of his win in the final race, Vidau was awarded the round victory.
"We had good pace this weekend, but it wasn't until the last race where we were able to show our true potential," said Vidau.
"The Sonic Motor Racing Services team prepared a great car, and it was nice to reward them with a round win."
Ojeda produced an impressive comeback drive to third in the finale after slipping down the order in Race 3.
"The first two races were excellent but in Race 3 I made a couple of little mistakes," said Ojeda.
"While I was fighting my way to the front, I was able to set the fastest lap of the race which showed the pace we had this weekend."
Privateer Jordan Boys finished third overall with race results of eighth, fifth and fourth.
"We struggled with the car early in the weekend, but we made tweaks in between each race, and we gradually improved it," said Boys.
"By the final race, we were quick enough to run at the front and we were pleased to take a solid bundle of points out of the weekend."
The second round of the Australian Formula Ford Series will be held at Wakefield Park from April 1-2.
Australian Formula Ford Series – Top 10 Points (after Round 1 of 6)
=1. Max Vidau – 44
=1. Jayden Ojeda – 44
3. Jordan Boys – 25.5
4. Nathan Herne – 23.5
5. Cameron Shields – 21
6. Liam McLellan – 19
7. Cooper Murray – 18
8. Hunter McElrea – 17
9. Zac Soutar – 15.5
10. Ben Reichstein – 14