Sir Jack Brabham honoured by Australian Mint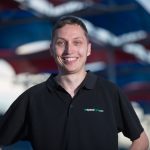 The Royal Australian Mint has honoured the contribution to motorsport made by Sir Jack Brabham with the release of a special commemorative coin.
The late three-time Formula 1 world champion won titles in 1959, 1960 and 1966 with the latter seeing him become the first driver to win the World Championship in a car of his own construction.
In honour of Brabham's achievements, Royal Australian Mint has produced a special 50 cent coin that depicts a portrait of Sir Jack alongside the Brabham BT19 Formula 1 car, which he drove to the 1966 title, on a green and gold race track.
Royal Australian Mint Chief Executive Officer Mr Ross MacDiarmid believes the coin is an ideal way to celebrate the motor racing pioneer, who died aged 88 in May 2014.
"Sir Jack Brabham was not only a superb racing car driver but he was also an innovative engineer and pioneer, paving the way forward for motorsports," said MacDiarmid.
"As we enter the 2017 Formula 1 season, this coin celebrates one of the world's motor racing greats and his remarkable achievements, on and off the track."
Brabham's youngest son David Brabham said it was an honour to see his father's achievements recognised by the Royal Australian Mint.
"To have our father recognised through a commemorative coin by an iconic national institution, the Royal Australian Mint, is really special and very important in carrying the Brabham legacy as my father's achievements are likely to never be repeated with today's technology replacing hands-on experience," said Brabham.
"This coin encourages us all to share the Brabham legacy and recognise what is possible if you put your heart, soul and mind into it just like Jack, a pioneer of his time."
Brabham's widow Lady Margaret and eldest son Geoff Brabham recently visited the Victorian Historic Racing Register's Sir Jack Brabham Annexe that houses his 1966 car and trophies to reflect on his achievements and what the coin means to the family.
With a limited mintage of 30,000 and retailing for $13.50 each, the 2017 50c Coloured Uncirculated Coin can be purchased by visiting https://eshop.ramint.gov.au or phoning 1300 652 020.
VIDEO: Sir Jack Brabham honoured by Royal Australian Mint