McLaughlin 'gutted' to let Clipsal victory slip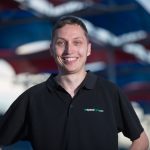 Scott McLaughlin described missing out on a maiden victory for DJR Team Penske as 'gutting' after a late mistake let a win slip from his grasp in Adelaide.
The 23-year-old was favourite to chalk up the Australian/American alliance's first win before making an error with three tours of the 78 lap race remaining.
McLaughlin locked the rear wheels coming into Turn 9 and ran wide which allowed a hard charging Shane van Gisbergen through to claim his second victory of the weekend.
DJR Team Penske's new recruit felt he had done enough to record a memorable win before the moment struck.
"I'm feeling confident (for the rest of the year), but I'm just gutted (at the moment)," said McLaughlin, who finished second.
"I led the race and controlled it but in the last few laps I lost it. That is human and just how I am.
"I put a lot of pressure on myself to perform and nobody puts more pressure on than me.
"I really thought today was the going to be the day where we would get that first win, there is a lot of promise there, but I'm kicking myself."
McLaughlin admitted he is still adjusting to the braking package in his new Falcon FG X, which he felt contributed to the mistake.
"I'm not confident with the brake package at the moment and I'm still getting used to that," he added.
"I just overstepped the mark and when you lock the rears you are done.
"We were spent at the end on brakes."
Although disappointed to miss out on what would have been a stunning win on debut for the Queensland team, McLaughlin is buoyed for the remainder of the season.
McLaughlin qualified inside the top six for both races, ending his first weekend with DJRTP with a credible podium finish on Sunday.
"I'm absolutely ecstatic with how the Shell V Power Racing team has gone this weekend," he added.
"We showed a lot of promise and I'm feeling confident for the next few rounds."
DJR Team Penske manager Ryan Story echoed McLaughlin's thoughts about the team's promising position after a strong start to the year.
He also said his new recruit had nothing to apologise after his late mistake.
"I think he was just disappointed, he came on the radio and apologised but let me tell you he's got nothing to be sorry for, he's done an awesome job all weekend," Story told Speedcafe.com.
"You can't take away from the fact that our race pace is not at the level Shane (van Gisbergen) was able to demonstrate this weekend.
"He (Scott) was getting hunted down pretty quickly and these things happen, but we'll come back bigger, better and stronger.
"We know where our target is, we've still got a long way to go, we have to be consistent and we have to be able to do this week in and week out," he said.
"It's the race pace we need to address, but more important than that is the consistency.
"If we can come back in the next few events and show similar competitive performance to what we've shown here, we know we've made some serious in-roads."