Whincup heads SVG in final Clipsal practice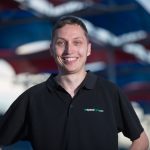 Jamie Whincup clocked the fastest time of the Clipsal 500 weekend so far to top the final practice session.
The Red Bull Holden Racing Team driver utilised a green tyre run to post a 1:19.76s in the final five minutes of the hit out.
The six-time champion edged team-mate Shane van Gisbergen by 0.15s as the pair prepared for this afternoon's Armor All Top 10 Shootout.
Cameron Waters continued to show his impressive pace in the #6 Monster Energy Falcon to end the 20 minute session in third.
"It was really good. We are just working on our program," said Waters.
"I am stoked to make the Top 10 Shootout. My engineer and I are working together really well, we are making the car better every session and made it a bit better than, hopefully we can sneak forward in the shootout."
Prodrive team-mate Mark Winterbottom was fourth ahead of the sister Supercheap Auto Falcon of Chaz Mostert.
James Moffat produced his best display of the weekend by claiming sixth in the Garry Rogers Motorsport Holden Commodore.
The top 10 was completed by David Reynolds (Erebus Motorsport), Todd Kelly (Nissan Motorsport), Scott Pye (Mobil 1 HSV Racing) and Tim Slade (Brad Jones Racing).
Slade endured a brief spin in the early part of the session.
Scott McLaughlin was the top DJR Team Penske runner in 11th, while Craig Lowndes focussed on setting up his TeamVortex Commodore for the race in 22nd position.
The timesheet was propped up by rookies Simona de Silvestro (Nissan Motorsport) and Alex Rullo (Lucas Dumbrell Motorsport).
The grid for today's opening race will be determined by the Armor All Top 10 Shootout, which will begin at midday local time.
The Top 10 Shootout will feature van Gisbergen, McLaughlin, R Kelly, James Courtney, Mostert, Fabian Coulthard, Whincup, Winterbottom, Waters and Reynolds.
Results: Practice Three – Virgin Australia Supercars, 2017 Clipsal 500
| | | | | | |
| --- | --- | --- | --- | --- | --- |
| 1 | Red Bull Holden Racing Aust | Jamie Whincup | Holden Commodore VF | 01:19.8 | |
| 2 | Red Bull Holden Racing Aust | Shane Van Gisbergen | Holden Commodore VF | 01:19.9 | 00:00.2 |
| 3 | Monster Energy Racing | Cameron Waters | Ford Falcon FG/X | 01:19.9 | 00:00.2 |
| 4 | The Bottle-O Racing Team | Mark Winterbottom | Ford Falcon FG/X | 01:20.0 | 00:00.3 |
| 5 | Supercheap Auto Racing | Chaz Mostert | Ford Falcon FG/X | 01:20.1 | 00:00.4 |
| 6 | Wilson Security Racing GRM | James Moffat | Holden Commodore VF | 01:20.3 | 00:00.5 |
| 7 | Erebus Penrite Racing | David Reynolds | Holden Commodore VF | 01:20.3 | 00:00.6 |
| 8 | carsales Racing | Todd Kelly | Nissan Altima | 01:20.4 | 00:00.7 |
| 9 | Mobil 1 HSV Racing | Scott Pye | Holden Commodore VF | 01:20.5 | 00:00.7 |
| 10 | Freightliner Racing | Tim Slade | Holden Commodore VF | 01:20.5 | 00:00.7 |
| 11 | Shell V-Power Racing Team | Scott McLaughlin | Ford Falcon FG/X | 01:20.5 | 00:00.8 |
| 12 | Nissan Motorsport | Michael Caruso | Nissan Altima | 01:20.6 | 00:00.8 |
| 13 | Team Clipsal | Nick Percat | Holden Commodore VF | 01:20.7 | 00:00.9 |
| 14 | TEKNO Woodstock Racing | Will Davison | Holden Commodore VF | 01:20.7 | 00:00.9 |
| 15 | Sengled Racing | Rick Kelly | Nissan Altima | 01:20.8 | 00:01.0 |
| 16 | Mobil 1 HSV Racing | James Courtney | Holden Commodore VF | 01:20.8 | 00:01.0 |
| 17 | MEGA Racing | Jason Bright | Ford Falcon FG/X | 01:20.9 | 00:01.1 |
| 18 | Preston Hire Racing | Lee Holdsworth | Holden Commodore VF | 01:20.9 | 00:01.2 |
| 19 | Wilson Security Racing GRM | Garth Tander | Holden Commodore VF | 01:20.9 | 00:01.2 |
| 20 | Shell V-Power Racing Team | Fabian Coulthard | Ford Falcon FG/X | 01:21.0 | 00:01.2 |
| 21 | Erebus GB Galvanizing Racing | Dale Wood | Holden Commodore VF | 01:21.0 | 00:01.2 |
| 22 | TeamVortex | Craig Lowndes | Holden Commodore VF | 01:21.0 | 00:01.3 |
| 23 | LD Motorsport | Taz Douglas | Holden Commodore VF | 01:21.2 | 00:01.4 |
| 24 | Team CoolDrive | Tim Blanchard | Holden Commodore VF | 01:21.3 | 00:01.5 |
| 25 | Team Harvey Norman | Simona De Silvestro | Nissan Altima | 01:22.4 | 00:02.6 |
| 26 | LD Motorsport | Alex Rullo | Holden Commodore VF | 01:22.9 | 00:03.1 |